Outdoor Education Program Launches at Easterseals Camp Stand By Me
The brand-new program offers outdoor education for students of all abilities
Thanks in part to a generous grant from the Russell Family Foundation, we are excited to launch an inclusive Outdoor Education Program at Camp Stand By Me in Vaughn, WA. The program is set to offer outdoor education for students of all ability levels on the grounds of our fully-accessible summer camp and respite service.
In an effort to receive feedback and develop our programming, we are offering a special discounted price for a limited time.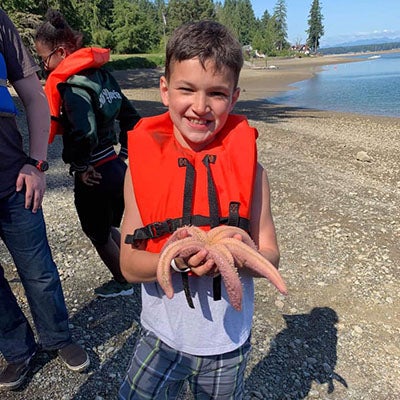 Activities Include:
Wetland Nature Trails
Beach Scavenger Hunts
Swimming (therapeutic heated pool with ramp access)
Adaptive Archery
Arts & Crafts
Puppets & Artificial Pelts
Outdoor Games
Microscopes
Educational Materials
More!
Who: All students in grades K-12 and transition programs welcome
What: Inclusive outdoor education field trips
When: Dates available September through December
Where: Easterseals Camp Stand By Me in Vaughn, WA
Pricing: Limited time introductory cost of just $10 per student. Limited to our first 25 groups. All we ask is your feedback! Chaperones attend free. Ask about rates for meal service.
Contact us for more information or to schedule your trip today!
Heidi Jo Johnson, MSW, MHP
Naturalist, Easterseals Washington Camp Stand By Me
360.551.3184
hjohnson@wa.easterseals.com