Stories of Sucess at Easterseals Olympic Peninsula Autism Center
Children with autism are making amazing progress every day, and we want to share their stories with you!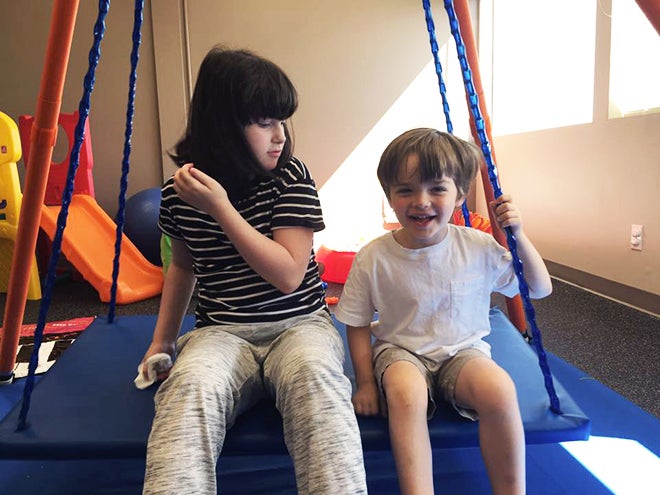 Easterseals Olympic Peninsula Autism Center (OPAC) provides intensive, one-on-one ABA Therapy for children with Autism. Through hours of hard work, learning, and a little bit of play, the children at OPAC are overcoming barriers and learning to communicate with their peers, teachers, and family members. We hear so many little stories about these milestones, and we're happy to to share some with you!
KT, who has been with us for years, comes rushing into the center one day. I said jokingly to his mom, "Make yourself at home!" and his mom said, "Well, this is like his other home. He never complains about coming here, grabs his backpack in the morning and is like, 'Let's go!'"
BW has been with us for only a month and his mother drives out from Port Angeles to bring him to the center. That's a 3-hour round trip 3 times a week, plus she has a very young toddler that she also needs to wake up, feed, and bring out on this journey. She is ecstatic about the changes she is already seeing in him. She said he is already more verbal. At this stage it is more about getting his needs met, but he is able to correctly say 'yes' or 'no' to the food items he wants. This is saving her a ton of money in groceries as before she was just guessing at what he would eat. Before he would just say 'yes' to everything, but when it came down to actually eating it he would refuse or throw it across the room. He still does throw things across the room, but he is much better at listening and picking his mess all up again. Eventually it will be a goal for him to stop throwing things in the first place, but picking them up without a fuss is certainly a big step for this family! It's all just baby steps, but so nice for the family to have a quick win!
Our little guy GC certainly does try to communicate. Here at his ABA therapy, we work on teaching the words for things he might want so that he can get what he wants without needing to engage in problem behavior. Like many of our learners, GC really

likes music. His therapists have been working with him to make corresponding sounds to the things he likes so that he can learn to request them. Previously, he was making vocalizations that did not match the word for what he was wanting. Today, his therapist Sydney sang the 'ABC song' but stopped at various points. GC was taught that she would start up the song again in response to him making the 'mmmm' sound (mmmm for Music). He did it four times in a row. For the first time he made a corresponding sound that matched his reinforcer! Well done!

MS was able to find the food icon on her device for 'pizza' and kept pressing it for her Dad. He drove to Little Caesar's and she kept pressing it right up to the cash register and ordered herself pizza using her device! We do work on her finding the right icon for things she wants and pressing it, but we don't work on the pizza one! That is one she figured out for herself.
JH has begun stringing proper sentences together. On a rainy day looking out the window at home, he used his device to say 'Truck', 'Trailer', 'Beach', and 'Kite'. He then was able to say "Truck to trailer go to beach and fly kite".
We have also been working on tooth brushing with JH. His recent dentist appointment was a success. No cavities!
---
Click here to learn more about Easterseals Olympic Peninsula Autism Center, located in Silverdale, WA.