Services for Caregivers
Easterseals Washington offers a variety of services to help parents and caregivers have access to respite and the resources they need to care for their loved-ones. Click any program below to learn more.

Respite
Camp Stand By Me is about all the things children and adults can do -- swim, ride horses, sing, eat s'mores and more. Easterseals Washington has camping & respite programs to provide a safe, barrier-free environment for children and adults to experience all aspects of camp without usual limitations.
Operation Family Caregiver
Easterseals Washington is proud to have been selected as the new Operation Family Caregiver provider in Washington State. Operation Family Caregiver provides free and confidential support to the families of those who have served our nation. We help the families of returning service members and veterans adjust to the "new normal" by coping more effectively with problems they never imagined.
Make the First Five Count
Easterseals' Make the First Five Count® is designed to give children at risk of developmental delays, disabilities or autism the right support they need to be school-ready and build a foundation for a lifetime of learning. And, if you're a parent, make sure your child is reaching his or her developmental milestones. It's easy to find out, simply take Easterseals' free online screening tool.
Community Resources
Nationwide, as many as 54 million Americans have a disability. Maybe your neighbor has an injury resulting from a motor vehicle accident, or your coworker has a child with cerebral palsy. Your grandmother may be recovering from stroke -- or maybe you are one of every five Americans with a disability. Look around you, and you'll find people of all abilities who are vital participants in their communities despite the barriers they may encounter.
Information & Referral
Do you have questions about disabilities and local resources? Contact us. Easterseals Washington can provide you with information, resources, and referrals to local programs, services, and initiatives. We have a dedicated toll-free information line and dedicated information e-mail to help you navigate services in Washington state.
Kitsap County Parent Coalition (KCPC)
In addition to our four core programs, Easterseals Washington operates the Kitsap County Parent Coalition (KCPC). The Coalition provides education, advocacy and referrals to help people with developmental disabilities get the support and services they need to improve their lives. Our Parent Coalition Coordinator arranges regular coalition meetings with special guest speakers and prepares newsletters and alerts on issues important to the disability community. KCPC provides more than support to people with disabilities, it strengthens their families as well, providing parent mentoring for caregivers and volunteer advocates for special education issues.
---
New Resource Guide: Federal Resources for Caregivers
The White House Conference on Aging has compiled a list of federal resources for caregivers from the following agencies:
Administration for Community Living (ACL)
Centers for Medicare & Medicaid Services (CMS)
Centers for Disease Control and Prevention (CDC)
Substance Abuse and Mental Health Services Administration (SAMHSA)
National Institutes of Health (NIH)
HHS Office of Women's Health (OWH)
HHS Office of Disease Prevention and Health Promotion
U.S. Department of Housing and Urban Development (HUD)
U.S. Department of Labor (DOL)
Office of Personnel Management (OPM)
Social Security Administration
U.S. Department of Vetarns Affairs (VA)
View the White House Resource Guide Here.
---
National Resources For Caregivers
Choosing the right kind of care for a loved one who needs daily assistance due to injury, illness or age is one of the most difficult decisions. To help you balance all your caregiving responsibilities, we've created this list of resources to reference at any time. If you have any questions about caregiving services offered in your community, contact your local Easterseals to find out more.
We also have specific resources for military caregivers.
---
What is a Caregiver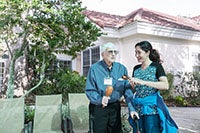 Are you handling your aging mother's bills? Do you take your grandfather to the grocery store once a week? Do you take time off work to drive your aunt to her doctor appointments? If so, you are a caregiver ... and there are many services and supports available to you and the person for whom you are caring.
Back to top
---
How Does Easterseals Care for Caregivers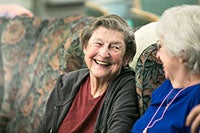 We offer a variety of programs and resources to provide support and care for caregivers. Reach out to your local Easterseals to learn about what services are offered near you.
Many of our locations across the country offer respite services that allow both caregivers and the people for whom they're caring the opportunity to relax, recharge, and reconnect. Our respite services are offered nationwide and designed to give caregivers a much-needed break from the stress of caregiving.
Whether you're planning for future caregiving needs, or learning how to make decisions as a caregiver, we're here for you every step of the way with our caregiving guide.
Financial stability and home security are an important part of anyone's life, but for caregivers managing money may create additional stress. Easterseals and partners at Freddie Mac created a series of resources to help you elevate some of that stress so that you can focus and invest in what matters to you most.
Back to top
---
Caregiving Stories and Resources
Sometimes knowing that you are not alone in your experience as a caregiver can offer some comfort. Below is a collection of resources and stories from caregivers across the Easterseals community.
Back to top