For Caregivers
Easterseals Nebraska provides resources for caregivers such as respite and education.
Easterseals Nebraska week-long summer camps, weekend respite camps and daycamps provide the same excitement, joys, challenges and activity available at other programs in a fully-accessible setting. Campers gain independence and social interaction skills while participating in a variety of fun, adapted activities, and caregivers can enjoy the respite knowing their camper is in great hands and having fun!
Nebraska Work Choice can provide specialized training and continuing education for disability service providers, school systems, parents/guardians and other specialized groups.
National Resources
Choosing the right kind of care for a loved one who needs daily assistance due to injury, illness or age is one of the most difficult decisions. To help you balance all your caregiving responsibilities, we've created this list of resources to reference at any time. If you have any questions about caregiving services offered in your community, contact your local Easterseals to find out more.
We also have specific resources for military caregivers.
---
What is a Caregiver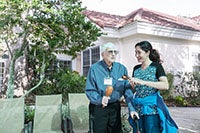 Are you handling your aging mother's bills? Do you take your grandfather to the grocery store once a week? Do you take time off work to drive your aunt to her doctor appointments? If so, you are a caregiver ... and there are many services and supports available to you and the person for whom you are caring.
Back to top
---
How Does Easterseals Care for Caregivers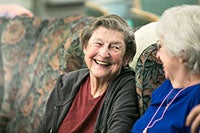 We offer a variety of programs and resources to provide support and care for caregivers. Reach out to your local Easterseals to learn about what services are offered near you.
Many of our locations across the country offer respite services that allow both caregivers and the people for whom they're caring the opportunity to relax, recharge, and reconnect. Our respite services are offered nationwide and designed to give caregivers a much-needed break from the stress of caregiving.
Whether you're planning for future caregiving needs, or learning how to make decisions as a caregiver, we're here for you every step of the way with our caregiving guide.
Financial stability and home security are an important part of anyone's life, but for caregivers managing money may create additional stress. Easterseals and partners at Freddie Mac created a series of resources to help you elevate some of that stress so that you can focus and invest in what matters to you most.
Back to top
---
Caregiving Stories and Resources
Sometimes knowing that you are not alone in your experience as a caregiver can offer some comfort. Below is a collection of resources and stories from caregivers across the Easterseals community.
Back to top