Bellevue Strawberry Festival
We're making new friends on the Eastside!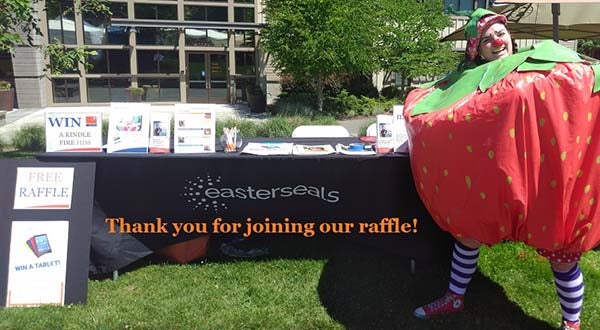 Easterseals Washington joined the festivities this year for one of the region's oldest traditions – the Bellevue Strawberry Festival. Featuring family entertainment, an auto show, vendors, and LOTS of strawberries, the festival draws thousands of guests every year. Our team had a great time making new friends and reconnecting with longtime supporters at the festival, even in the 90-degree heat!
Visitors to the Easterseals Washington booth were given the exciting opportunity to sign up to win a Kindle Fire HD8 in our charity raffle. In all, over 100 people signed up to become more involved with our mission and to have a chance to win. We are thrilled to announce that the winner of the new tablet is Charlene Fletcher of Issaquah. Charlene plans on sharing her Kindle with her granddaughter, Victory, who starts first grade this year.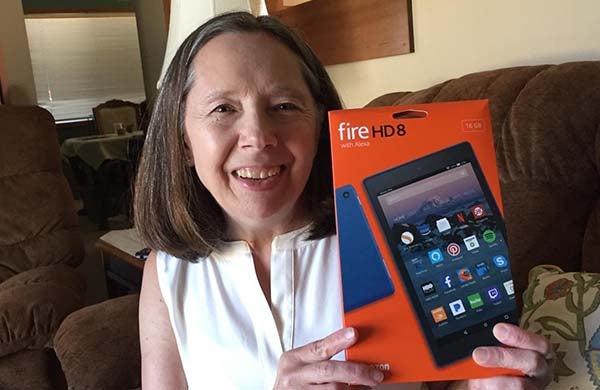 In talking to our lucky winner, we were excited to find out that Charlene has a lot in common with Easterseals Washington! As a passionate advocate and educator of children with disabilities, Charlene has spent her career redefining how our communities define and view disabilities. This year Charlene retires from her dream job of 20 plus years as an Early Education Specialist for the Issaquah school district. Before she leaves, Charlene plans to gift her colleagues with a journal of anecdotes, lessons learned and stories so her peers can draw inspiration on both "awesome" and "discouraging" days. Here are some of our favorite excerpts from her journal:
"We look at what a student CAN do, not what a student CAN'T do."
- Charlene Fletcher

I feel that throughout the years, it's not just through training that I gained wisdom, but from the children I taught and their families. They are the ones who know their child the best and experience daily what their challenges, struggles and successes are.
To us in Early Learning Education, success is defined differently. We look at what a student can do, not what a student can't do.
Success is when a student can communicate their needs without yelling, screaming, throwing things, hitting or laying on the floor.
Success is when a student is able to draw from newly acquired techniques to feel calm through stressful situations.
Success is working through a task even though it is the hardest thing they can do that day.
To us, success is a connection – eye contact, a sound or touch to say I'm here, I trust you, I'm watching you and I'm learning.
One of our students joined us without the ability to communicate their needs. This student was often frustrated and would cry and scream until we could figure out what the student needed. Over the course of two years, we worked on building communication strategies and the crying and screaming began to fade away. This upcoming school year, with excitement and joy, our student is transitioning to an inclusive Kindergarten with students of all abilities. This student's journey is not over as there are still challenges to overcome, but this individual is on their way to building the skills needed to succeed – their way.
---
Thank you, Charlene for all that you do! Enjoy your new tablet!