Meet our Therapy Team
Meet our Team of Speech, Physical, and Occupational Therapists
Melissa Griffin – Medical Rehabilitation Director
MGriffin@sc.easterseals.com
(803) 627-3857 (803) 222-1518 Fax
Melissa Griffin joined Easterseals in 2004 and has over 10 years of experience in the Early Intervention field. During her time with Easter Seals, she has held multiple positions within the agency.
Melissa has always been drawn to children and found her niche when providing Applied Behavior Analysis for twin boys while working towards her Bachelor of Social Work at Winthrop University. Throughout her entire college career, Melissa was a member of the Close Scholars program in which students complete 112 volunteer hours in local community agencies per semester. This experience helped Melissa to build extensive knowledge of the community resources available for children and families in areas such as financial and grocery assistance, housing, and domestic violence.

As a mom of three girls, including twins who were born at 31 weeks, Melissa has a unique ability to understand children with special needs from both a professional and personal perspective. Having spent over a month in the NICU and participating in the Early Intervention process with her twins, Melissa has experienced first-hand the challenges encountered as a parent of children who have special needs. Melissa is passionate about helping children make developmental gains and assisting families in navigating the resources available for children with special needs.

When she is not spending time with her husband and girls, she enjoys traveling, decorating, and shopping.
Brannon Faulker- Medical Rehabilitation Assistant
Bfaulkner@sc.easterseals.com
(803) 627-0981
Brannon Faulkner is currently the Medical Rehabilitation Assistant. Brannon first joined the Easter Seals family back in 2012, where she served as an Early Intervention Specialist. While earning her Bachelors in Psychology degree, she always knew she knew she wanted to pursue a career with children. However, it wasn't until after college when Brannon began providing Applied Behavioral Analysis Therapy to children diagnosed with Autism did she find the fulfillment of serving children with special needs. To this day, the Autism Spectrum Disorder holds a special place in Brannon's heart!

While working as an early interventionist, Brannon's passion was to always give parents and children a positive outlook while achieving developmental outcomes. She loved working hands-on with the families celebrating all the little victories along the way. Now, Brannon works more behind the scenes helping to maximize the children's therapy services. Having a physical disability of her own from birth, Brannon knows personally how important early intervention therapy can be to enhance one's quality of life. During her free time, Brannon enjoys riding ATV's with her husband and three children on their family farm as well as cooking, crafting, and dancing. She is also very active in her church and PTO at her children's school.
Shae Peake - Pediatric Billing Specialist
Svanderford@sc.easterseals.com
(803) 212-8971 (803) 661-8450 Fax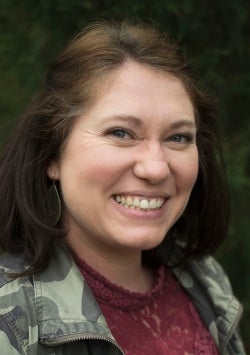 Shae grew up in Winnsboro, SC and studied pre-med with a focus in pediatrics at the University of South Carolina. She has worked in the medical field for the past 12 years and began her career as an emergency room triage/intake coordinator at Fairfield Memorial Hospital. She then went on to work as the billing specialist for a Rheumatology practice in Columbia, SC for eight years before coming to Easter Seals in early 2010.
She has always had a desire to help children with special needs and joining the Easterseals family has allowed her to be a part of facilitating the services that are so crucial to a child's development.
Outside of work, Shae enjoys making memories with her family and relaxing by the lake. She also enjoys baking and crafts.
Meet the Columbia area therapists here
Meet the Charleston area therapists here
Meet our Upstate area therapists here
Meet our Myrtle Beach area therapists here
Meet our Rock Hill area therapists here
Meet our Beaufort area therapists here
Meet our Sumter area therapists here