Our Mission
Easterseals provides exceptional services to ensure that all people with disabilities have equal opportunities to live, learn, work and play.
In the spotlight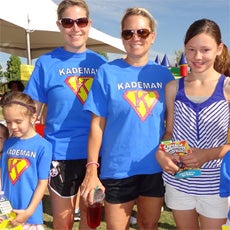 Easter Seals Walk With Me is an event to raise awareness and support for families living with disabilities! Join hundreds of passionate people in your community for a day full of entertainment, fun and, of course, our signature walk! Every walk event is different -- your walk could be at a local school or at the aquarium. But every walk is a lifeline of funds that enables your local Easter Seals to continue providing vital services and support to people with disabilities and their families.
The Story of Easterseals Alabama
Easterseals, nationally, is the leading non-profit provider of services for individuals with autism, developmental disabilities, physical and mental disabilities, and other special needs. Through therapy, training, education, and support services, Easterseals Alabama creates life-changing solutions so that people with disabilities can live, learn, work and play in their communities.
Easterseals Alabama was founded in 1926 as the Alabama Society for Crippled Children. For more than eighty years, the organization works to enhance the lives of children and adults with the disabilities as well as their families. Easterseals Alabama's mission is based on the core values of integrity, respect, excellence, stewardship, philanthropy, and the promotion of independence for individuals with disabilities. Our mission is met through vocational services including employment training and job development; medical services consisting of speech, physical and occupational therapies; children and family services; educational services; community accessibility and transportation services; camping and recreational services.
Easterseals Alabama consists of eight community rehabilitation program sites and the world's largest barrier free recreational camp Camp ASCCA. Easterseals Alabama services include:
Medical Rehabilitation

Early Intervention
Physical Therapy
Occupational Therapy
Speech and Hearing Therapy

Job Training and Employment
Child Care
Camping and Recreation
In 2008, Easterseals Alabama served over 20,000 children, adults and families resulting in $17.3 million in new wages and purchasing power.