Program Leadership Team
Providing guidance and leadership in our programs across the state.

Jennifer Cleverdon
Director, Olympic Peninsula Autism Center
Jennifer has been the director at OPAC since 2015. Jennifer grew up as the daughter of an active duty Navy family and spent her childhood shimmying up coconut trees in Guam, visiting ruins in Pompei and was even able to see the Berlin wall. This life fostered a love of travel, trying new things and meeting new people. Throughout it all, Jennifer was involved in a variety of volunteer work; primarily as a Hospice volunteer to terminally ill patients. Read more.
Renita Linear
Director, Angle Lake Child Development Center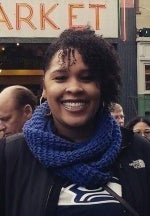 Renita joined Easter Seals Washington as a volunteer at Angle Lake in September 2011. She was so wonderful, we hired her as a full-time employee. Through hard-work and exemplary leadership, Renita eventually became the Assistant Director at Angle Lake. In 2015, Renita was named the Program Director of Little Aviators Child Development Center, but came back to be the Program Director at Angle Lake in November of 2016. Renita has a degree in Human services and is passionate about building strong and long-lasting relationships with families and children from all walks of life. Read more.
Joshua Mayer
Director, Camp Stand By Me
Joshua Mayer became the Director of Camp Stand By Me in 2012. His passion for making the outdoors accessible to individuals with disabilities started much earlier, though. In 1995, he volunteered with the Muscular Dystrophy Association's summer camp in Eastern Washington, and continued doing so until 2010. His experiences there led him to pursue an undergraduate degree in Special Education. He went on to spend a number of years teaching middle school students with severe behavior needs in Tacoma. Read more.
Chris Plyman
Director, Adult Day Center - Des Moines
Chris Plyman has a long relationship with Easterseals Adult Services in Des Moines. In 2005, Chris enrolled his grandmother in the program. In 2008, he began an internship with the center for his BA in psychology, and was hired as program staff immediately after his graduation. He has served two stints as program director, his current turn beginning in 2016. Read more.