Smoking Cessation
Easterseals and CVS Health Foundation Take on Disparities in Smoking Among Washington State Disability and Veteran Communities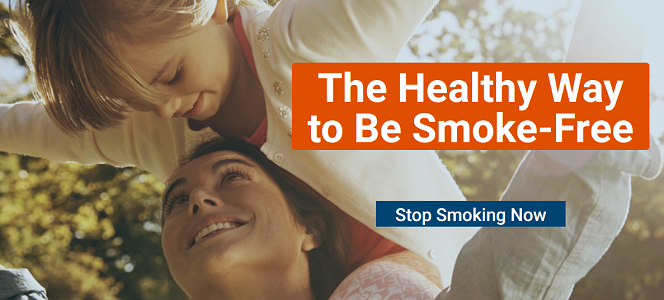 At Easterseals Washington, we're committed to enhancing the health and well-being of Washington state. We promise that a healthier you will be a breath of fresh air, and Easterseals has the resources to start you on the path to a tobacco-free life. We've always believed in taking the whole you into account when setting a plan to meet your goals, and this is no different, from the Freedom from Smoking program to exercises that work for people with physical limitations.

Research shows there's a higher nationwide incidence of smoking among the populations to whom we provide daily support, including individuals with disabilities, veterans and caregivers. That's why we teamed up with CVS Health, the nation's leading force behind a smoke-free America, to launch a national smoking cessation program to help veterans, people with disabilities and caregivers live healthier, tobacco-free lives.
People with disabilities are more likely to be current smokers compared to adults who report having no disability (23% vs. 17%)
Male veterans aged 25 - 64 years are more likely to be current smokers than nonveterans (26.3% vs 22.2%)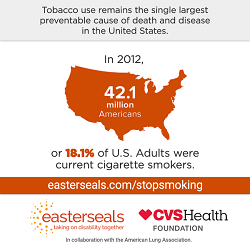 Tobacco use remains the single largest preventable cause of death and disease in the United States. While more Americans are kicking the habit, 42 million still identify as smokers—accounting for 1 out of every 5 citizens. People living with disabilities face even higher instances of smoking, nearly 40% more than those who reported having no disability (CDC, 2011).
CVS Health knows promoting a tobacco-free lifestyle extends well beyond their cigarette-free stores. That's why they're working with Easterseals, the nation's indispensable resource for people facing disability, to help the disability community, veterans and caregivers kick the habit for good.

"If we are to help Americans on their path to better health, then tobacco-free living must remain a top, public health priority—for people of all abilities," said Eileen Howard-Boone, President, CVS Health Foundation. "And that path starts in a different place for everyone. Together with Easterseals, we're engaging the populations they serve including people with disabilities, veterans and caregivers who we know want to quit, but may not know where to start."

Through support from the CVS Health Foundation, and in collaboration with the American Lung Foundation, Easterseals Washington is advancing a smoking cessation program specifically tailored to the populations it serves: people with disabilities, veterans and caregivers—all groups with higher incidence of smoking. The partnership leverages the American Lung Foundation's Freedom from Smoking online program, which takes participants through modules containing tips and lessons to quit smoking.

"We're proud to partner with the CVS Health Foundation as we help the individuals and families we serve kick the habit for good," said Cathy Bisaillon, President & CEO, Easterseals Washington. "It's a true honor to be selected among the grant awardees. We hope Washington state families are inspired to take advantage of this opportunity."
Easterseals Washington was among eight affiliates to receive this year's grant. The grant will support local efforts to put the Washington state community on the path to better health. With our friends at the CVS Health Foundation and the American Lung Association, we're proud to offer you resources that fit your abilities and goals. Take a deep breath and let's go! For more information about smoking cessation visit www.easterseals.com/cvs-smoking/.
Download press release here.
Why is this is an initiative that Easterseals Washington has launched?
So, you may be asking, of all the public health concerns to focus on, why invest in smoking cessation? Tobacco use remains the single largest preventable cause of death and disease in the US toady. Smoking is responsible for more than 480,000 deaths per year in the United States, including an estimated 41,000 deaths resulting from secondhand smoke exposure. We acknowledge that there's been a great deal of progress in the U.S. and we've seen many successes in tobacco control in the last few decades but unfortunately we're still seeing that people with disabilities, veterans and caregivers are still smoking at a higher rate than the general public. The purpose then becomes identifying what we call "priority populations" and figuring out how to reach them with this information and help them quit.

So, looking at the populations Easterseals serves the data shows that people with disabilities are more likely to be current smokers than adults without disabilities. We want individuals with disabilities to stay well, active and a part of the community so they can lead full, active lives. Sometimes there are barriers that limit participation of smoking cessation programs by people with disabilities (those could include:


Being unaware of where to find smoking cessation programs
Accessible, affordable transportation
Cost of program
Lack of program materials in alternate formats (ex. For low to no vision, cognitive disabilities, etc.)
The facility where a program is being held may be inaccessible

We're hoping to overcome some of those barriers through our partnership with ALA, also by reaching the people we serve with information about our smoking cessation program, directing them to programs in local communities, especially in rural areas and helping to ensure accessibility of both the program materials sand the facilities where in-person programs are held.

Another population we serve are family caregivers. Now, we all know that being a caregiver, though it's a tremendously rewarding experience, it does bring about a lot of stress in the caregiver's life. This new stressful role in their life can often cause caregivers to turn to something that's comforting—one of those comforts we know is smoking. That was further confirmed by the results of our Many Faces of Caregiving Study which included some data on the challenges of caregiving.

Some of the top challenges caregivers reported from the study include increased anxiety, stress, poor sleep, less time to exercise and a concern about feeling unprepared to be a caregiver.

Smoking was reported as one of those "comforts" caregivers use to relieve stress. In the study, Male Caregivers, in particular, reported a higher rate of smoking to deal with the stresses of caregiving. In our smoking cessation program we want to empower caregivers to focus on their own health & that of their loved ones.
We are helping pave the way for all people to be healthy so they can lead full, active lives.