Matthew's First Time at Camp
A Story of Success from Camp Stand By Me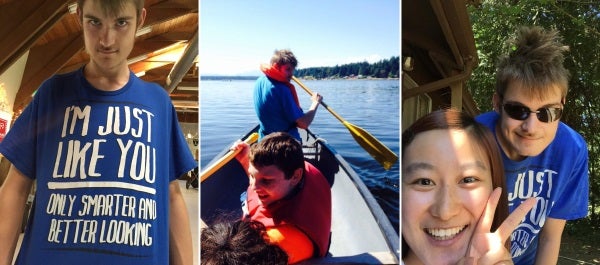 Camp Stand By Me gives children and adults with disabilities the freedom to be themselves and explore the great outdoors in a barrier-free environment. For some, this might be the first time in their lives they've been away from home for an extended period of time. This was the case for a camper named Matthew this past summer, who has had difficulties in school and at other programs. Many people mistake Matthew's actions for "acting out", when he is really just being himself. Thanks to a generous anonymous donor, Matthew was able to attend Camp Stand By Me this year at no cost, on a Camp Scholarship. His mother shared these words about Matthews experience at Camp, and how it changed their lives forever:
"It was a really, really, really, amazing, wonderful experience. Matthew has never been away that long before, and never overnight. It seemed SO positive for him. Everyone was so helpful throughout the experience - so polite, and anticipated the needs of our family from registration to arrival. CSBM really gave Matthew independence – he's NEVER, ever, ever been successful anywhere. He's been to other camps, and always been sent home. He's been kicked out so many times for behavior – he never feels successful. This was absolutely huge. It was so amazing - the whole time he was gone, we were on high alert, waiting for a call, and we thought 'every day he's gone, it's a win, even if he comes home early'. With some people, you can see the disability, and you can allow for that, but with Matt, he doesn't look like he has a disability, it just seems like he's a snotty teenager. It really was life-changing. It's the first time he's ever been successful out on his own. I talked to Matt for a long time when he came home, and he said, 'they thought I was funny, and smart, and good at things,' and given the context that he always gets in trouble for things, he was just tickled."
Click here to learn more about Camp Stand By Me, Easter Seals Washington's fully-accessible summer camp and respite care in Vaughn, WA.
If you are interested in making a tax-deductible gift to Easter Seals Washington to help fund Camp Stand By Me and our other programs located throughout the state, click here.