Vocational Services
Non-Core Rehabilitation Services
Employability Assessment Services
Employability Development Services
EMPLOYMENT SERVICES
Transitional Employment:
A regular assignment paid job in the Easterseals workshop. This service may be for a short time as the person prepares for community employment, or it may last as long as the need persists.
Supported Employment:
Community employment with a job coach and support as long and as intensive as needed.
Community Employment:
Integrated Easterseals employment in a community setting with limited support.
Job Coaching:
Intensive one-on-one services including job task analysis, job training, job behavior management, developing natural supports and employer relations needed to ensure client job retention.
NON-CORE REHABILIATION SERVICES
Easterseals offers services for the whole person. Although individuals seek out Easterseals Southern Georgia for help with employment problems, significant issues in other life areas often negatively affect employability. Certain non-core services have proven valuable in the pursuit of employability. Certain non-core services have proven valuable in the pursuit of employment independence.
Driver Education:
One of the barriers to transportation independence is often a lack of driver's license. Easterseals Southern Georgia provides classroom training. The fee-sponsored service is paid for by the DOL Rehabilitation Services.
Literacy and GED Services:
Another significant barrier to gainful employment is poor literacy skills and lack of high school diploma or GED. Easterseals provides instruction and time off from work to facilitate workers improving skills. Obtainment of the GED is one goal of the literacy training effort.
EMPLOYABILITY ASSESSMENT SERVICES
Gathering information needed to answer the question, "Where do I go from here?"
Limited Vocational Evaluation:
Briefly addressing the questions:
What is your previous job training?
What is your previous work experience?
What do you want to do next?
How does your disability support or hinder your goals?
What other services might support your goals?
What do we need to start on today?
Comprehensive Vocational Evaluation:
Includes all of the components of a limited vocational evaluation plus extensive standardized testing to more fully link previous training, experience, and abilities to goals. The outcome is the same; a prescription for employment success.
Work Evaluation:
Includes all the components of a limited vocational evaluation plus assignment to a job after training and under close supervision. Work evaluation is usually most helpful for people who have never held a job.
Pre-Employment Analysis:
The objective of Job Readiness Training is to give individuals with disabilities an opportunity to develop job seeking and job retention skills.
Pre-Employment Analysis is the set of instructional activities and peer supports provided as an individual is preparing for employment.
Instructional activities designed to give individuals an opportunity to develop job seeking and job retention skills.
The outcome of assessment services is a report which recommends job placement options or further services leading to job placement.
EMPLOYABILITY DEVELOPMENT SERVICES
When the plan leading to employment includes further services.
Work Adjustment Training:
For people who have never worked or have not worked in a long time and may not have the basic work habits necessary for successful work, nor the skills to get and keep a job.
Facility-Based Work Adjustment Training:
Includes both individual guidance and paid work experience in the Easterseals workshop.
Community Work Adjustment:
Paid work experience under close supervision in one or more of a variety of community work settings.
Employment Skills Training:
Formal and organized course of study in a specific occupational area designed for an individual to obtain the necessary skills for an entry level occupation.
WORK ADJUSTMENT CENTER
The Easterseals Work Adjustment Center is proud to provide the community and its companies with a trained, supervised workforce which employs disadvantaged citizens who are economically challenged.
Your company maybe searching for alternatives to adding additional workers.
Easterseals can be your staffing solution:
We can arrange for our employees to work on your site or the work can be performed in our workshop.
We are prepared with a fully insured and supervised staff.
We have the space and accommodations to meet your needs.
We will provide the level of quality that your specifications require.
Easterseals can deliver on short-term projects or long-term projects at a very low cost.
Why? Our employees are paid a piece rate.
How do you benefit? Your overhead and overtime cost will reduce because you will only pay for actual work produced.
Expenses you can eliminate:
Workers Compensation
Benefits: Medical, Vacation and Sick Leave
Recruiting and additional Payroll, Overtime
In-House Supervisory Cost
Work experience and capabilities:
Rework
hand packing
Kit assembly
Repacking
Small parts assembly
Small parts disassembly
Parts sub-assembly
Folding, packing apparel
Hand and power tools
Labeling/imprinting
Box folding and assembly
Box gluing and assembly
Hand collating, folding
Shrink wrap services
Heat Sealing poly bags
Packing, shipping parts
Lining tote bags

The Work Adjustment Center has the equipment and space to do the job you need done. Our facility consists of:
5,000 square feet of climate controlled workshop and production space
Over 400 square feet of dust free work areas
Single bay loading dock
Central pressurized air system
Delivery truck, fork lift, hot glue guns, heavy duty box stapler
Commercial sewing machines
Commercial washers and dryers
Want to know more?
If you have a vacant position and you are considering workers with disabilities, or simply want to speak to someone to learn more, please contact us.
LAUNDRY PROGRAM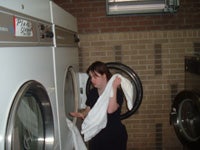 Our laundry service offers a drop off service. Leave your laundry and let us do the work for you! We wash, dry, and fold your clothes. Our service is easy, affordable, and convenient!
The goal of Easterseals of Southern Georgia's Laundry Program is to assist the persons served to obtain the skills that will enable them to lead productive lives, with dignity and independence, as determined by their individual abilities and desires.
Laundry Services:
$0.80 per pound for clothes, towels, sheets, etc.
$8.00 for twin size comforters
$10.00 for full or double size comforters
$12.00 for queen or king size comforters
Ironing Services:
$2.00 per piece
$3.25 for dresses
$4.00 for flat work
Your support of Easterseals Southern Georgia's laundry service helps to provide jobs for individuals with disabilities.