Military & Veteran Services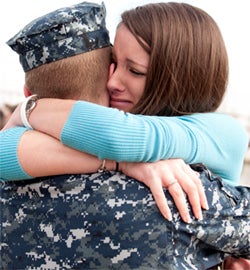 Easterseals Southeast Wisconsin offers veterans and returning military services members job training, placement, resources and other services to assist them in securing employment. Click here for employment information or contact us.
Learn more about Camp Yellow Ribbon, a week-long camp for children of military members and veterans.
National Services for Military and Veterans Communities
As the largest provider of disability-related services to individuals with disabilities and their families, Easter Seals offers military and veterans systems of care with viable options to support and augment current reintegration efforts. Easter Seals is leveraging, integrating and building community capacity through federal, state and local resources to meet specific needs through information, services, supports and community resources.
In communities nationwide, Easter Seals is being asked to help meet the needs of America's military service members and Veterans with disabilities and their families. Our goal is to promote their successes by helping them attain their personal and family goals, while becoming full participants within their own communities.
Our commitment to reaching out to the military community goes back to World War II. Easter Seals has a long history of providing support to individuals who need a helping hand. We are poised with our nationwide affiliate network to navigate the often difficult journey as they return home.
Learn more about our National Easter Seals' Military & Veterans Services