Inclusive Sports Clinics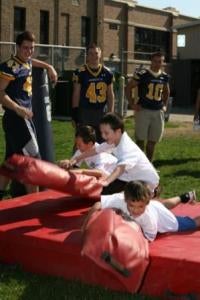 Easterseals is proud to offer the community a variety of different sports clinics throughout the year for children with autism and their siblings.
The clinics were developed in 2011 to fulfill the dreams of those who may not feel they are successful at a traditional sports clinic. Support by the autism team is present at each clinic as the team runs drills and activities for participants.
Easterseals is dedicated to expanding that support system to include the community. Our mission is to partner with community-based organizations and equip them with the knowledge, training and support necessary to make everyone successful. Using only the most up-to-date progressive evidence-based approach, we take programming to the next level. Research strongly supports inclusive practices with a body of evidence that grows daily.
Our next clinic is the Football Camp on September 29th at Marquette University High School to learn more and register click here.
For more information on our sports clinics programs, contact us.