A "can-do" spirit
Marti's story shows how your support can help people living with disabilities accomplish their goals and reach life's milestones. Please donate today and show your support.
Catching up with Former Easterseals Child Representative Marti Clark
Marti Clark has a history of exceeding people's expectations. A former Easterseals child representative in 2004, Marti is now a 17-year-old young lady who enjoys learning and is involved in a number of activities. Watch Marti's inspirational video.
A visit to the White House
Recently, Marti's activities included attending an event held at the White House! On June 21, 2010, Marti received a special 17th birthday gift ... she and her dad visited the White House with other special kids and their dads as part of a Father's Day event hosted by the president.
"You are our country's future, and this country is here to support you," said President Obama. "Everyone of you should focus on making the most of yourselves -- set goals and achieve them, starting this summer."
Marti's dad said, "Marti and I want to thank Easterseals for an awesome afternoon. You continue to open doors that we thought would never be available to Marti. Today was Marti's birthday, and if you could just imagine having the opportunity to tell the President of the United States, 'today is my birthday,' and he affectionately looks you in the eye and wishes you a happy birthday ... well, that's just awesome!"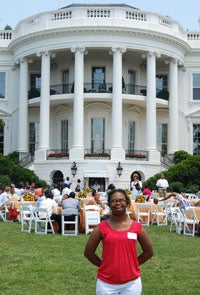 Big plans for the future
When she's not attending events hosted by world leaders, Marti is food critic for her school's newspaper -- she writes articles about good places to eat and sometimes includes recipes she and her dad cook at home. Outside school, Marti likes spending time with her friends, family and pets. Ice-skating is Marti's newfound interest and she plans on taking lessons. Recently, she was especially excited to dance with her fellow Girl Scouts as toy soldiers in the Metropolitan Ballet's The Nutcracker.
Marti has big plans for her future. After she graduates from the Harbor School, she says she wants to go to college, make new friends, learn new math skills and get a job.
A light at the end of the tunnel
Marti's life is focused on what she can accomplish. But when she was born with Down syndrome, her parents weren't given much hope. They had just a text for reference, which Marti's dad nicknamed "the book of doom and gloom." When the Clarks were referred to Easterseals, both say they found a light at the end of the tunnel -- some answers and the long-term, positive support they were searching for.
Marti was just three months old when she started receiving services through Easterseals Child Development Center in Washington, D.C. At age three, she was in Easterseals early childhood education preschool programs and then its inclusive kindergarten.
Her parents are quick to point out that working with her therapists and teachers over the years has helped them through transitional times in Marti's life. The Clarks never lost contact with Marti's Easterseals therapists, who have helped develop the can-do attitude she possesses today.
"Without Easterseals being there when I needed them," says Marti, "I probably would not be having this much fun."