From "wait and see" to success in school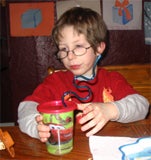 Enable children like Connor equal opportunities to live, learn, and play.
Donate today!
Connor, age 7
Easterseals Western Pennsylvania (Pittsburgh)
Connor is bright, funny, warm, loving and energetic. He is a champion because he has overcome obstacles that most people couldn't fathom.
When Connor was diagnosed with Autism Spectrum Disorder (ASD), his parents had a lot of questions but didn't know what to do or who to ask.
Through years of "wait and see" and a lot of medical uncertainty, the one thing his family was certain of was that they wanted Connor, and all of Connor -- every bit of his personality.
Connor's family longed for Connor to have fun and interact with other boys and girls his age.
When it was time for Connor to go to school, his family's decision not to medicate him was met with some adversity. Connor and his family endured many visits and futile efforts on waiting lists for programs already bursting at the seams to help children with disabilities -- and rejections from various programs in their hometown of Pittsburgh.
After a year and a half of searching, Connor's family was close to giving up when they learned about Easterseals Western Pennsylvania. Connor's family says, "Easterseals was the ticket we were looking for. Easterseals truly looks at what's best for each child and his family."
Connor's family is thankful for the interaction and incorporation of the entire family into Connor's educational plan. Easterseals has also opened doors by bringing parents together to share experiences, offering various speakers to provide important information, and providing information about other programs outside of school available for their participation.
"Most importantly, Easterseals provides a safe, loving, educational and social atmosphere where Connor can be himself and achieve success," adds his parents. "When you ask Connor about school or how his day was, most often his answer is with great enthusiasm, 'School's cool!'"
Next up for Connor, Easterseals Western Pennsylvania is working through his educational plan for next year with hopes Connor will participate in a partial integration program at his home school.

Today, Connor's family is relieved to know he's enjoying his days in a safe environment that allows him to discover new things every day. He is with people who care about his success and love him for his charming, loving and funny ways. He is with people who want to learn more about him and help his family learn more.
In addition, Connor's family says that when they have questions and need to reach out, someone is always there to listen and provide them with information. "And if they don't have it they help us seek it out," they say. "Easterseals, the people who make up Easterseals, is a gift to our life. Everyday we are thankful that we found them."