100th Anniversary Media
In 2019, Easterseals celebrates 100 years of service to America. We invite you to learn more about the significance of the 100th Anniversary Celebration of Easterseals and browse press materials below. If you have any inquiries or are interested in telling the Easterseals story in your media outlet, please contact reach out via our contact form.
Fast Facts About the 100th Anniversary Celebration of Easterseals:
Easterseals was founded on April 22, 2019, by Ohio businessman Edgar Allen. Allen was inspired to make a difference in the lives of children with disabilities after losing his own son in a streetcar accident. Read the story of Easterseals here.


In honor of this momentous milestone, we adopted a new tagline: "All abilities. Limitless possibilities."


We have a brand-new PSA airing in Comcast NBCUniversal markets nationwide. Check it out here.


Easterseals is proud to serve 1.5 million people with disabilities, veterans, older Americans, and their families. Together, our 69 affiliates across the country provide grassroots programs to respond directly to the needs of their communities.
About Easterseals President and CEO Angela F. Williams: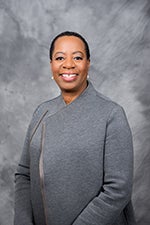 Angela F. Williams is the President and Chief Executive Officer of Easterseals, Inc. In this role, Williams is leading the national organization in its 100th anniversary in 2019 as the country's leading nonprofit provider of services for people with disabilities, including Veterans, and their families. Williams has 30 years of leadership experience in the nonprofit and corporate sectors.

Ms. Williams will be the tenth person to lead Easterseals in the U.S. This distinction is enhanced by the fact that she is the first African American, and the first female within the past 41 years, to hold this post. Read the rest of Angela Williams' bio.
100th Anniversary Celebration of Easterseals In the News:
Our President and CEO Angela F. Williams was interviewed on the CBS show Eye on Veterans.

Easterseals Military and Veterans services were featured in a profile on Connecting Vets.