Wendy Sullivan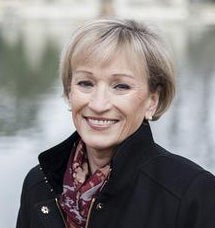 Wendy Sullivan has more than 38 years of experience advocating for the inclusion of people with developmental disabilities into our communities. As a special education teacher, she came to Easterseals Midwest to work directly with people with disabilities, helping them to live in their own homes, find jobs, and make friends. Promoted to positions of increasing responsibility, she was appointed CEO of the organization in 1997.

Under Wendy's leadership, the expansion of programs, mergers, and acquisitions has made Easterseals Midwest the largest organization of services to people with developmental disabilities in Missouri. The organization continues to expand to meet the needs of individuals and families throughout the state, as well as in Kansas and Illinois.

To further Easterseals' mission and to advocate on behalf of all people with disabilities, Wendy has led initiatives to deinstitutionalize individuals with developmental disabilities and increase funding for services. She serves as chair of the Easterseals Affiliate Leadership Council. She is also a member of the Easterseals Board of Directors Affiliate Relations Committee.