Glenda Oakley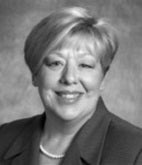 Glenda Oakley is Chief Financial Officer of Easterseals. With more than 25 years of experience in public accounting, external and internal audit, corporate finance and consulting, Glenda was with Aetna Medicaid before joining Easterseals. At Aetna, she led and drove financial best practices for the financial teams of three Medicare Medicaid Plans in Illinois, Michigan and Ohio.
Glenda received her Bachelor of Science in Accounting from Arizona State University. She maintains current licensure as a Certified Public Accountant in the State of Arizona.
She has a strong personal connection to our mission as her husband is a retired United States Marine who served our country for 30 years. While he was active duty, Glenda was in the Key Spouse Program where she assisted spouses and families through deployment readiness. Their eldest son is a veteran of the U.S. Air Force, and their middle son recently retired from the U.S. Marine Corps with 20 years of service.