Catherine Alicia Georges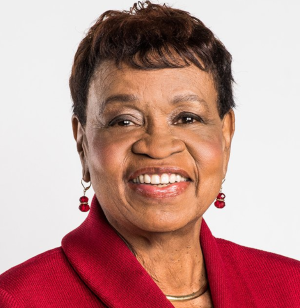 Dr. Catherine Alicia Georges is an educator, practitioner, and community activist, as well as Professor and Chair of the Department of Nursing at Lehman College, City University of New York(CUNY). She has worked in a variety of professional roles in New York City with a career that spans more than three decades and is a sought-after speaker on nursing and health care issues throughout the United States, Africa, South America, Europe, and the Caribbean.
A formidable leader committed to eliminating disparities and improving the health of minorities and the disadvantaged, Dr. Georges was the fifth president of the 150,000-member National Black Nurses Association. She currently serves as President of the National Black Nurses Foundation. An advocate and activist as a member of the Children's Aid Society Health Advisory Committee, she is a Fellow of the American Academy of Nursing and a member of a number of national and New York-based organizations including the American Public Health Association and the National Black Nurses Association. She holds a Bachelor of Science (BS) in Nursing from Seton Hall University; a Master of Arts (MA) in Community Health Nursing Administration and Supervision from New York University; and a Doctorate in Educational Leadership and Policy Studies from the University of Vermont.

Elected to the Easterseals National Board of Directors in 2020, Dr. Georges currently serves as vice chair of the Public Policy Committee.