Auburn Smith
Easterseals 2013 National Youth Representative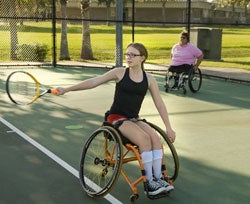 High school sophomore Auburn Smith is a nationally ranked tennis player and aspiring musician who enjoys riding her adapted bicycle and loves to travel. She doesn't let a disability get in her way.
There was a time when her doctors couldn't imagine Auburn doing even half of what she does today. Born with spina bifida and clubfoot, she was just a day old when she had her first surgery. Her parents were told that she would likely never walk – something no one in the Smith family accepted.
At seven months, Linda and Jim Smith enrolled Auburn at Easterseals for inclusive childcare and therapy. With both parents working full time, Easterseals was the one place where Auburn could have her physical therapy during the day at childcare. Linda, a respiratory therapist, says she recognized immediately that they were in the hands of top-notch professionals. "There was such a calmness about them," she says. "As a new parent of a child with special needs, it was wonderful to have that steady guidance. We knew we had come to the right place." At 18 months, Auburn had surgery to realign her feet and the Smiths were amazed by the optimism of Easterseals' early intervention team. "They told us they would have Auburn walking by age 2," says Linda, "and they did. I can't describe in words what that was like. After that," she says, "everything else seemed much more attainable."
Auburn transitioned from Easterseals childcare to her local school when she was three. But as she's grown and faced new mobility challenges, Easterseals has been there to improve her gait and balance or get her fitted for new leg braces.
These days, Auburn is on the honor roll and busy at school. Her teachers say she projects a calm confidence and that she is wise beyond her years. Her ceramics teacher says she's a rock star and "a one of a kind kid."
Now, when she comes to Easterseals, it's for fun. Tennis Everyone, a partnership between Easterseals and the United States Tennis Association (USTA), introduces kids with mobility challenges to tennis. Auburn's coach Nancy Olson is a two-time Paralympic silver medalist in wheelchair tennis. Auburn works with her longtime physical therapist at Easterseals to strengthen her back and side muscles so she can better maneuver her sports wheelchair on the court. A natural at the game, Auburn says the rewards of tennis go way beyond winning: "I love the competition and meeting new people and how it keeps me healthy."
Her dad, Jim Smith, is a trauma nurse who works nights so he can be home during the day for Auburn and her sister, Kellie, 13. Auburn also has an older sister — Ashley, 22. Her companion dog, Alpine, makes the family complete. At home, Auburn has chores, homework, and other responsibilities, like any teen. "This is our normal," Jim says, noting that it was at Easterseals the family learned to take things in stride. "Easterseals has been a godsend to us."

Learn more about Easterseals Volusia & Flagler Counties.