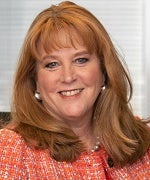 It is my honor and privilege to join Easterseals as its President and CEO as the organization prepares to celebrate its 103rd Anniversary on April 22nd.
Throughout its history, Easterseals has provided life-changing services and powerful advocacy in communities nationwide to ensure that children and adults with disabilities, including veterans and seniors, can fully participate in society.
This impressive legacy will guide me as I assume leadership of the organization, in partnership with our national network of Affiliates and volunteer leaders, to enhance our impact in responding to the evolving needs of the one in four Americans living with disability today.
We find ourselves at a critical point in history as the nation recovers from the global pandemic, a crisis which disproportionately impacted the lives of people with disabilities and their families. Thankfully, Easterseals was there for them throughout the crisis and will continue to be as we're needed now more than ever.
I am grateful to the tens of thousands of Easterseals staff and volunteers throughout the country whose unwavering commitment to service continues to ensure that more than 1.5 million children and adults with disabilities every year receive the services and supports they need to live quality lives.
And I am equally grateful to the donors, funders, and corporate partners who make our impact possible through their generous support.
I look forward to leading Easterseals as it continues its legacy of impact in the lives of children and adults with disabilities, families, and communities nationwide.
Together, we can realize our vision of a more inclusive world!
Kendra E. Davenport
President & CEO
Easterseals