Amy's Physical Therapy Moment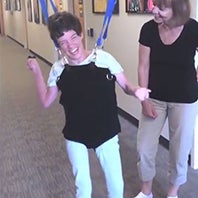 I've been receiving therapy services at Easterseals DuPage & Fox Valley for over 35 years and an employee for 12 years. It truly is my second home.
A huge highlight for me occurred six years ago when I was the first client at our center to try a newly installed innovative piece of equipment called The Walking Track. Our physical therapy staff had just completed an in-service on the use of The Walking Track. My physical therapy session was right after our staff had their instruction, and I really wanted to try it.
My therapy usually starts with a lot of stretching and preparation but we were all anxious to try it out. I was hooked into a harness that was connected to a track in the ceiling and surprised myself by taking steps and moving down the hall. I remember feeling like my steps were smooth and natural and I didn't feel my normal spasticity at all.
I couldn't believe I was taking steps all by myself! I loved sharing the moment with my physical therapist who has treated me for over 30 years. As an added bonus: My twin sister, also an employee at Easterseals DuPage & Fox Valley, came into the hallway so that we could get our first picture STANDING next to each other. It doesn't get much better than that! Thanks Easterseals!