Lessons from Miguel
This preschooler at our Yakima Child Development Center has taught us so much

"Miguel is fortunate to have a team of teachers, therapists, doctors, family, and community members that have helped him grow in his education and development. Each individual has impacted Miguel's life and has provided him with tools to help him be successful." -Maricruz Herrera, Miguel's mom
When Miguel and his family came to Easterseals Jane's House in Yakima, we were so excited to help them reach their full potential. Serving children of all abilities is what we do best at Easterseals Washington, so we had a good idea of what to expect when teaching Miguel. What we didn't expect is just how much Miguel would teach us.
When Miguel enrolled in ECEAP Preschool at Jane's House, he had just been diagnosed with Hypotonia Ataxia and Delayed Development Syndrome (HADDS). He would need extra support to be successful in the classroom, so we got to work right away preparing our program and teachers. Working closely with Miguel's mom Maricruz and our partners at Education Service District 105 (ESD 105), we learned about Miguel, his needs, his adaptive equipment, and his care plan. Stacie Marez with ESD 105 noted just how important partnerships like this are for children like Miguel: "When we work together, we can better meet a child's developmental needs. Partnerships and inclusionary practices like this are especially critical for children with disabilities."
After preparing our teachers and staff, we were all confident that Miguel would be safe and successful in the classroom. Then it was time for the big day.
On Miguel's first day in the classroom, he was eager to meet his new friends. His walker and wheelchair allowed Miguel to travel throughout the classroom and participate fully in activities and play, and he immediately started exploring. Right away, his peers welcomed him and invited him to play with them. One recognized that just like Miguel, she too wears a helmet. She explained to the teacher that she wears her helmet when she rides her bike. Another was excited to pass a ball back and forth with Miguel on the playground. He noticed that Miguel has his own way to express his feelings.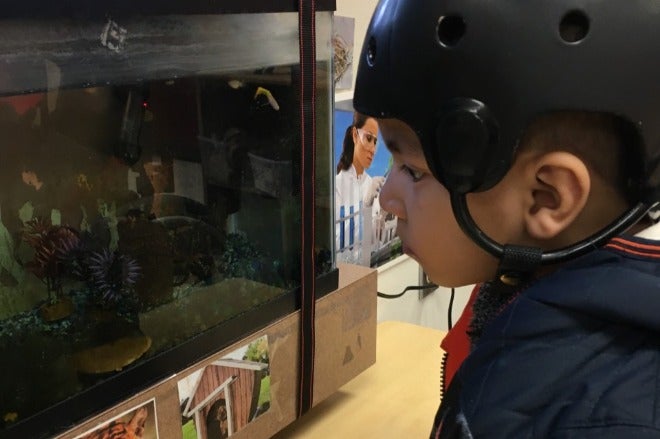 Seeing Miguel transition smoothly into the classroom and be welcomed by his peers has been beautiful to watch and has taught us some valuable lessons:
Partnerships are crucial. When we work together we can find solutions and break down barriers.
We're more alike than we are different. Children are accepting and do not look for differences—they look for similarities. Let's try to see the world the way children do!
Inclusion is key. When children like Miguel learn and grow side-by-side with their typically-developing peers, everyone benefits.
Today, Miguel is thriving at Jane's House with his new friends. We can't wait to see what he teaches us next.
---
All kids have unique needs and challenges, and when they get the help they need there's no limit to what they can achieve. At our inclusive Child Development Centers, children of all abilities get the support they need to reach important milestones and successfully transition to school. Learn more