Operation Family Caregiver Launches in Washington State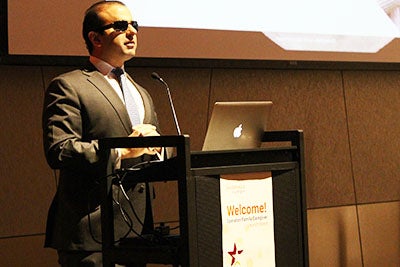 Seattle, Wednesday, January 25th, 2017 – Lieutenant Governor Cyrus Habib speaks to guests at Easterseals Washington's Launch Event for Operation Family Caregiver.
Easterseals Washington was honored to welcome Military caregivers, nonprofit organizations and members of the Washington military community to our Operation Family Caregiver (OFC) launch event last week at the Meydenbauer Center in Bellevue. Attendees were greeted by special guest-speaker, Lieutenant Governor Cyrus Habib, who shared his own personal story of living with a disability and spoke to the need for greater support for our veterans, their families, and their caregivers. Mr. Habib offered his support for the program and helped set the tone for a very successful program kickoff.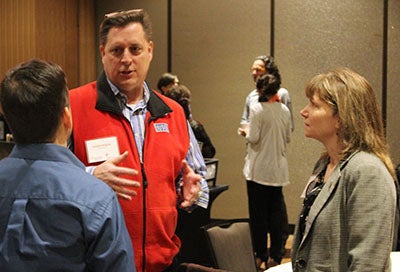 Next up, Easterseals Washington President & CEO, Cathy Bisaillon, introduced our organization and expressed her excitement for this new opportunity to serve military caregivers throughout the state. Although Easterseals Washington serves many military families through our core programs, OFC is our first military-specific program. We are proud to have been selected as the provider for OFC in Washington, and we look forward to giving back to military families that have served all of us during their duty.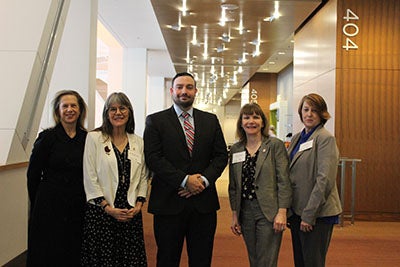 Our final speaker of the morning was Laura Bauer, National Program Director of Operation Family Caregiver - pictured above, on the far right. Laura shared her expertise in the military caregiving field and gave an in-depth look of the program. Following an informative Q&A session we wrapped up the event with a very positive outlook for the success of OFC in Washington. We would like to offer our sincere thanks to all who attended and expressed their interest in the program. The work that all of our attendees currently do in our community is truly amazing and we look forward to working with all of them in the future.
What is Operation Family Caregiver?
Operation Family Caregiver (OFC) coaches the families of returning service members and veterans to manage the difficulties they face when they come home. OFC is a personalized program, tailored specifically to the struggles of each family. Through proven methods, the program teaches military families how best to navigate their challenges, resulting in stronger and healthier families. Click here to learn more about how OFC helps create strong and healthy families.