National Immunization Awareness Month
Is Your Family Up to Date on Vaccines?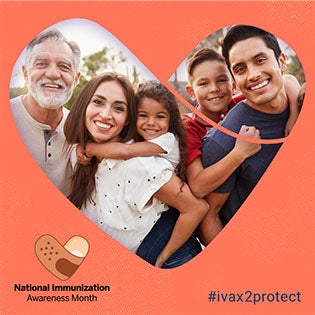 August is National Immunization Awareness Month, and we here at Easterseals Washington want to arm our stakeholders with the information they need to stay healthy. The Centers for Disease Control and Prevention (CDC) provides resources to help individuals talk to their health care professionals and make the best possible decisions regarding staying up to date on important immunizations to protect against diseases such as measles, cancers caused by HPV, and whooping cough. Read all of the CDC's recommendations at CDC.gov
We understand that there is an ongoing discussion surrounding the use of vaccines and perceptions of a potential link between the certain immunizations and the occurrence of autism. As an Easterseals affiliate, we are well informed on this topic and we align with the Autism Society of America, which states:
"We affirm there has never been any credible scientific or medical evidence linking vaccinations with autism. In fact, robust scientific research and the overwhelming consensus of the medical community conclude that vaccines are safe, effective, and life-saving. The Autism Society of America encourages parents to discuss any concerns about vaccines with their child's physician."
Please join us in promoting a culture of immunization awareness!