An Entrepreneurial Spirit
Meet David Etheridge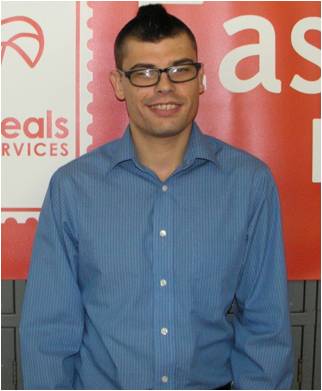 David Etheridge is a client of our Supported Living, Adult Day and Supported Employment Programs. And soon he will be adding entrepreneur to that list! David has always had a great interest in the technical workings of things, but it was only recently that he decided to channel that interest into a small business. Thus, Etheridge Installation & Repair Service was born.
David's technical interests grew out of a hobby learned from his great-grandfather: building model train systems. Not only has David continued that hobby to this day, but he also uses the skills he developed through building model train systems. Recognition of his abilities led David to market them to the public and start his own repair business.
David's reputation as the highest producing worker in the Adult Day Center's Piece Work Program proves that David is an extremely efficient and hard worker. By taking the initiative to harness his skills into his own business, David has also shown us all how ambitious and driven he truly is. What a wonderful example of how our programs enable our client to realize their potential and follow their dreams! We applaud you, David!