Working to Ensure Access for Seniors Amid a Pandemic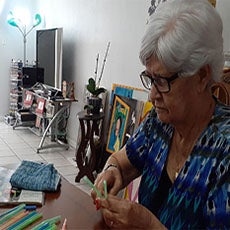 Working to Ensure Access for Seniors Amid a Pandemic
Seniors Imprisoned by Quarantine
It is no secret that seniors have been among those most impacted by the COVID-19 Pandemic. In March, when our lives suddenly came to a drastic halt, many thought it would last 3-months at the most. Now, 6-months later, there is no end in sight. We have all felt the loss of our sense of safety and security – some much more than others. We've experienced the harsh effects of social isolation and depression. Those of us lucky enough to still have a job are busier than ever, juggling work and family responsibilities. While the bravest of us venture out donning face coverings and practicing social distancing, our high-risk seniors are imprisoned by quarantine. Our seniors' predictable routines have been upended and replaced with stress and loneliness. If that isn't enough of a challenge, there is also the added anxiety of learning to navigate the complex waters of technology in order to access support services.
Fighting for our Seniors
At Easterseals South Florida (ESSF) accessibility for all our participants has always been a top priority. Our staff have worked tirelessly to find creative solutions to provide uninterrupted service to our Adult Day Care participants with memory and cognitive issues. Every day we get up prepared to fight the new challenges that await us. We want to make sure that all our seniors are healthy & safe. With over 2,452 telephone reassurance calls, we have been able to identify their needs and work hard towards fulfilling them. While we grieve the lives cut short, we continue to give our all to our many beloved seniors to help them stay safer & healthier. The core of our mission is to have a varied approach to person-centered services and programs. This means that we adjust our work to meet the unique needs of each participant.
Where There is a Will…There is a Way
Technology has been at the answer to many of our person-centered services and programs. To assist with keeping our seniors protected in quarantine, we have been able to distribute over 260 personal protection and equipment kits containing face coverings, disinfectant, and disposable undergarments, 34 patient tracking kits, 4,483 frozen meals, and 350 shelf stable meals.
To combat the effects of social isolation we have distributed I-Pods and activity kits as well as conducted virtual gatherings for bingo, singing, birthday celebrations, and support groups. We have aided some seniors in obtaining a Robotic Pet from The Florida Department of Elder Affairs to provide companionship. The Robotic Pets respond to motion, touch, and sound providing companionship and help to combat feelings of isolation and depression by improving overall mood and quality of life.
For many families we have provided close to 12,000 hours of much needed in-home respite care. This assistance has given many families the gift of stress reduction during a most crucial time. These virtual services and programs by no means replace the valuable in-person connections of our centers. However, it offers our seniors something to look forward to. It diminishes anxiety and provides a mood boost. Together, we will ride this pandemic out and when we come out on the other side, we will be stronger and better than ever before!