Homebound Seniors Get Vaccinated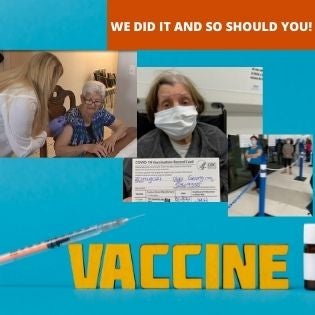 Getting our seniors and staff vaccinated has been an important step in our reopening plans. The South Florida non-profit network has played a pivotal role in our plan by partnering with us to bring vaccines to our most vulnerable populations. We were thrilled when The Office of Emergency Management at Miami-Dade County reached out to United Way of Miami Dade in search of 65+ older adults in our community in need of the COVID-19 vaccine. An even greater blessing was a collaboration with Florida Blue, Sanitas Health Care, and Guidewell to assist us in vaccinating our homebound clients. Guidewell supplied the vaccine, Sanitas administered the vaccine, Easterseals South Florida identified and outreached to homebound patients, and Florida Blue coordinated the project. "In my opinion, the beauty of it is the collaboration among the various entities" says Angela Aracena, vice president of adult day services at Easterseals South Florida. Click here to watch coverage of our vaccination efforts.
Our Kendall and Pembroke Pines Adult Day Care Centers are currently open, and our Civic Center location will reopen on May 3rd. Slowly we are reopening our centers with enhanced safety and cleaning precautions for our seniors and staff. In March 2020 when we transitioned to remote services, we were serving 698 seniors. The closures of centers have disproportionately affected seniors and their caregivers due to the extended period of isolation. Unfortunately, we have lost a few of our angels to the COVID-19 pandemic and natural causes. It will be a miracle if we can get back to pre-covid numbers anytime soon.
For those seniors ready to return, they are delighted to be resuming some semblance of a predictable routine that will eliminate their prolonged social isolation. They can once again control their day and have a greater sense of safety and security.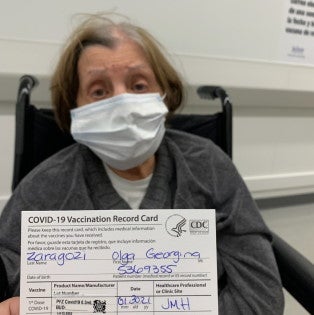 Olga is transported to vaccination site

Eumelia receives vaccination at home