Dog is a Senior's Best Friend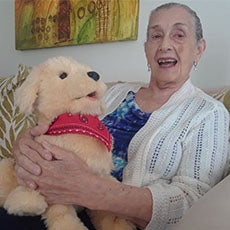 Therapeutic Robotic Pets Offer Comfort To Senior During COVID-19
To be surprised or not
Have you ever heard people say, "everyone loves a surprise!"? Well…in fact, most people do not like surprises or uncertainty. Human Beings tend to be creatures of habit and this is especially true for seniors. Having a predictable routine enables seniors to plan their day which leads to a greater sense of safety and security. A routine can also ease stress and anxiety thereby helping older adults sleep better. Seniors coping with memory and cognitive issues have an easier time when everything is known and predictable to them.
Since 2013, Marta (88 years old) and has been attending Easterseals South Florida Adult Day Care for people with memory and cognitive issues. Marta had been a thriving participant, actively engaging in a myriad of activities until the COVID-19 pandemic caused centers to close for quarantine. The closures of centers have disproportionately affected seniors and their caregivers due to the extended period of isolation. Marta's daughter reports that "It had been a nightmare dealing with changes in my mom's daily routine. Between her anxiety and my time working from home, it's been difficult."
Dog, a Man's Best Friend
With assistance from Easterseals South Florida, Martha received a Robotic Pet from The Florida Department of Elder Affairs to provide companionship. Martha's daughter says "This has been a brilliant idea! A pet that improves my mom's mood; helps with her anxiety; and, improves her conversational skills. Now, my mother spends part of her day smiling and talking to her new "friend" who looks exactly like her old dog, Halo."
There is a reason we call them man's best friend. The Robotic Pets respond to motion, touch, and sound. Now, this interactive pet is Martha's companion and helps her to combat feelings of isolation and depression by improving her mood and quality of life. As Martha's primary caregiver, the Robotic Pets have provided much needed respite for her daughter and reduced her stress level. Easterseals South Florida and this innovative therapy has given Martha, her daughter and 8 other families the gift of well-being during a most crucial time.