Distance Learning at its Best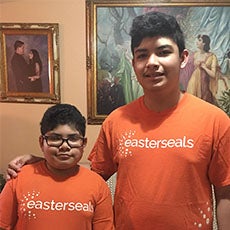 Esteban & Samuel
It's been months since the COVID-19 pandemic brought all our lives to a drastic halt. Our routines and life as we know it has been altered in unimaginable ways. Yet, even a global pandemic could not stop Easterseals South Florida (ESSF) from providing on-going services to its participants. The children and adult participants, as well as their families, depend on ESSF to help them navigate and lead successful lives. Knowing the critical role ESSF plays in the community, the staff worked tirelessly to continue uninterrupted service and reimagine what this new normal would look like. During quarantine, ESSF staff quickly shifted into remote gear to engage with participants. Distance learning and engagement transitioned into zoom classes and support groups, drive-by end of year celebrations, telephone reassurance, and respite visits to name a few.
When Miami-Dade County moved into the re-opening phase, staff and children alike were eager to return to their beloved centers. Yet, how would ESSF safely re-open and remain open? With new processes on cleaning and disinfecting, social distancing and personal protection equipment; ESSF has been able to re-open their centers for some children, allowing their parents to return to work. However, what about children who cannot return to the center? Perhaps, they are in a high-risk category or live with someone who is in a high-risk category. How could ESSF continue to meet the needs of children who depend on services but are vulnerable to in-person learning? Charged with engaging children from home in the culinary arts program; teachers designed an in-person/remote learning model where they serve half the children in-person and another half remotely. Each week ESSF teachers shop for activity supplies and prepare lesson plans with at-home instructions for those unable to make it to the center. Parents of children participants pick up the activity kits from ESSF and bring it home for the children to participate remotely.
Esteban (14) & Samuel (16) attend ESSF Culinary Arts middle school & high school (for children with disabilities) as well as the aftercare program sponsored by The Children's Trust. The brothers are only too happy to show off their culinary skills from home. Remote learning helps the brothers' follow their familiar routines which they both enjoy thoroughly. This week's activity meal was a Peanut Butter and Banana Sandwich which the boys made while mom proudly filmed their masterpiece. Watch Esteban's and Samuel's culinary video and I'm sure you'll agree that they did an amazing job!
Catching up with Esteban & Samuel's parents
Marcos & Sandra remember when Samuel began ESSF's summer camp. "He was 3 years old and could only say three words, mama (mommy), leche (milk) and lala (that's what he called the cell phone). Samuel was a shy child who tended to act-up. Today his behavior is good, and he is able to communicate fluently." Esteban started attending ESSF's summer camp when he was 5 years old but attended a public elementary school until 2017. Marcos & Sandra recall that Esteban had significant problems in public school. He was emotionally devastated with the way teachers and fellow students treated him. Esteban's Neurologists suggested that they also enroll him in ESSF full-time where he could receive the necessary accommodations. In only three years, Esteban has developed self-esteem and a sense of belonging. Mom & Dad say, "Easterseals is the best thing that has happened for the boys. They enjoy learning, love their teachers and the center. When we pick up the virtual learning supplies from ESSF, they can't wait to see what activities they will be doing during the week!"
By Leaps and Bounds
Miss Korina, Esteban's teacher, tells us he did not like online learning at first. The Covid-19 pandemic scared Esteban. Suddenly having to be on camera for Zoom classes made him nervous and shy. However, as the teachers worked with Esteban 1:1 and in groups, he was able to develop new routines and overcome his nervousness and shyness. Miss Korina is certainly proud of Esteban's accomplishments. When he started ESSF he had a lot of catching up to do she says. Now, he is above grade level in reading and vocabulary!
Samuel's teacher, Miss Jackie, describes him as a well-known leader in the school. In 2008 when he started the CARD summer camp, he was anxious, teary, emotional, shy, and often stuttered. In the 12 years that Samuel has been attending ESSF, he has grown by leaps and bounds. Samuel is now an independent student, able to verbally communicate his wants and needs and complete his daily living tasks on his own. He transitions from one activity to another with minimal accommodation. As one of the strongest students working in the kitchen, Samuel can remain on task until finished. He is very kind, respectful, and loves to help his fellow classmates.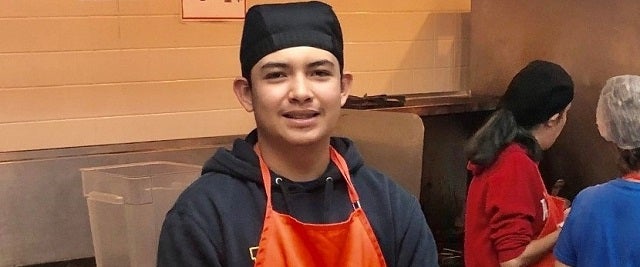 Esteban and Samuel's success shows how your support helps people living with disabilities transform their lives to accomplish their goals and reach many of life's milestones.