Easterseals South Florida Impact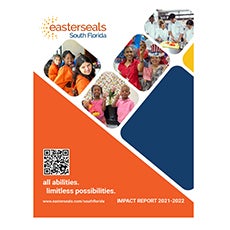 "We are proud to have served people and families challenged by disabilities and disadvantages for over 80 years. We are also grateful for the legendary support received over the years which in turn enables us today to provide services throughtout South Florida. This allows us to be responsive to the needs of each community and overcoming barriers thst can frequently hinder access to high quality services for the families we serve", said Maurice Woods, President and CEO of Easterseals South Florida. "Our mission is to provide services that address equity and inclusion disparities for individuals with disabilities by enhancing education, advancing health, expanding employment, and elevating community. . We are driven by passion to deliver on these ideals for each family we serve which is why we devote over 92 cents of every dollar to programs and services. We bring support, hope and joy into people's lives and we thank our supporters who have made our work possible in this community"
Click on our Impact Report below to see some of the ways we have been working to improve lives in the South Florida Community.