For Immediate Release
Understanding COVID-19s Impact on the Disability Community
No one would argue this last year was a unprecedented one for virtually everyone. But for the 61 million people living with disabilities in our country, there is no doubt; this crisis has disproportionately impacted them.
Thanks to a transformational gift to Easterseals by philanthropist MacKenzie Scott, we commissioned Accenture, a global professional services company, to conduct a national study to better understand COVID-19's impact on the disability community and get to the core of these challenges.
We will use these findings as a dynamic roadmap forward to modify, expand, and amplify our services to respond to the evolving needs of the many children, adults and families we serve.
But we cannot do this alone. We need employers, educators, government officials, funders, corporate and community leaders to step up, drive solutions, and do more to advance equity for ALL in our communities. The Study and its findings promise to inform our conversations with these stakeholders to positively change the landscape for people with disabilities in a post-pandemic world.
According to the Study, one of the greatest needs is quality education and financial stability. That is why Easterseals South Florida will utilize funds from the MacKenzie Scott gift to pilot a Head Start Kindergarten Readiness Program. Children's readiness for a successful transition into kindergarten is a community responsibility, where parents, Early Care and Education Pre-schools, pre-kindergarten teachers, elementary schools and local community programs work together to provide the base for children's success in school. We know school readiness is affected by the early care and learning experiences they receive.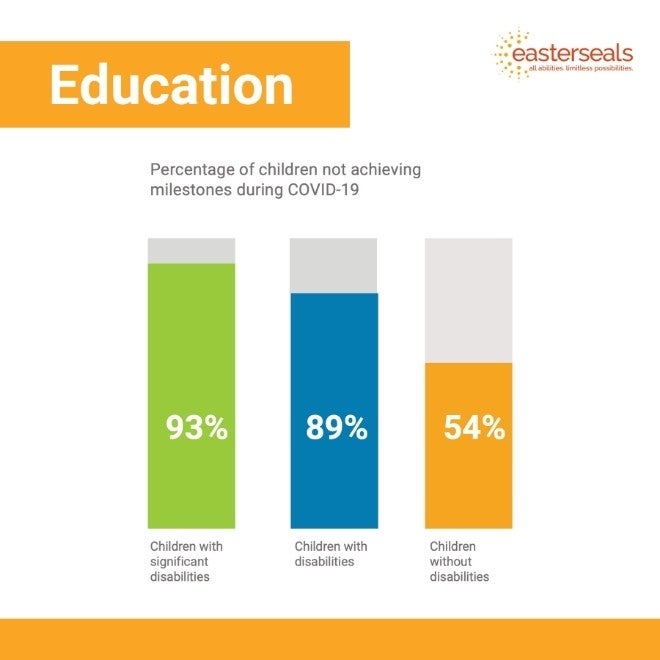 Our school readiness pilot program will launch this summer. It will provide a comprehensive, high-quality program with an emphasis on school readiness practices that aim to enrich the lives of low-income children by ensuring participants:
Enter kindergarten with skills necessary for school success.

Show an understanding of verbal and numerical concepts.

Are socially competent.

Show ability to stay with an activity longer.

Are less likely to be placed in special education classes.

Are less likely to be retained in kindergarten.
Simply put, now is the time to urgently address these systemic barriers, once and for all. If you share my sense of urgency in ensuring our children overcome these barriers and are ready for school, PLEDGE today to join us as a corporate partner, donor, or advocate. Contact Marta Quintana at mquintana@sfl.easterseals.com to find out how you can help.
Sincerely,
Maurice Woods
President and CEO, Easterseals South Florida