For Immediate Release
Miami Proud: Miami-Dade Police Department's Community Education Delivers Joy and Cheer To A Special Audience At Easterseals
Miami, FL, December 23, 2019
Media Contact:
Nanette Molina
nmolina@sfl.easterseals.com
305.777.6835

Easterseals South Florida is grateful to CBS 4 Miami and the Miami-Dade Police Department for sharing this heartfelt story! The story aired on December 26th, 27th and 28th.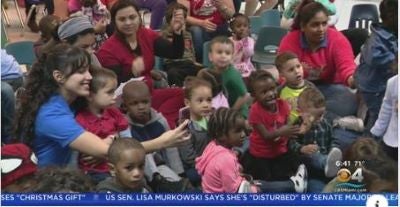 MIAMI (CBSMiami) – Santa Claus made a special visit along with the Fraternal Order of Police, bringing holiday cheer to kids and adults at Easterseals of South Florida in Miami. A holiday-themed puppet show with music, dancing, and sing-a-longs provided by the Miami-Dade Police Department's Community Education team brought the audience to their feet.
Andrew Wilcox is the team's frontman, he commands the room, getting the group to sing and dance, and even to sit still. While he brings out the energy in the kids and he's clearly the one having the most fun.
"I'm a little bit crazy," Wilcox admits.
Andrew Wilcox gets the crowd going at Easterseals of South Florida in Miami. (Source: CBS4)
Loreen Chant, Chief Executive Officer at Easterseals South Florida, knows the crowd and is appreciative of this event every year. This is the puppet show's 20th year for this audience.
"That room is filled with toddlers all the way to 20-year-olds, filled with energy and enthusiasm for weeks, they've known that the police department is coming," she said.
Community education is a year-long job for this civilian arm of the department which connects with school-age kids and works to keep them safe and out of trouble...
To continue reading, visit: https://miami.cbslocal.com/2019/12/26/miami-proud-miami-dade-police-departments-community-education-delivers-joy-and-cheer-to-a-special-audience-at-easterseals/.