President and CEO
Loreen Chant, President/CEO Easter Seals South Florida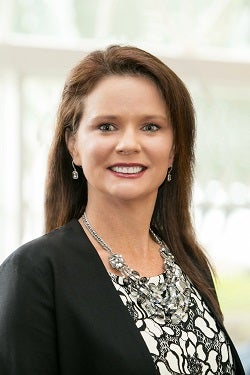 Loreen Chant is president and CEO of Easter Seals South Florida, a leading provider of disability services for people with disabilities or special needs and their families. With more than 70 years of service in Miami Dade County, Easter Seals provides vital programs and services that support and strengthen families living with Autism, Alzheimer's and other special needs.
As President and CEO of Easter Seals South Florida, Loreen reports to the Board of Directors and is responsible for the overall functioning and funding of the organization. She leads a staff of 180 full-time and 130 part-time employees with an annual budget of $13M. In her role she drives the agency's visibility across South Florida, engages the community in the agency's mission in meaningful ways, builds and maintains relationships with funders and leads its annual fundraising efforts to bridge the gap between program funding/fees and the cost of providing services.

In addition to her role at Easter Seals, she has been a leader in the South Florida Community where she has served on numerous community boards including the United Way of Miami-Dade, North Miami Education Foundation and the Federal Reserve Bank of Atlanta's Advisory Council. She is currently the board chair of the Health Foundation of South Florida, South Florida's largest philanthropy devoted exclusively to improving health and health services for all residents in Broward, Miami-Dade and Monroe Counties. In her role, she guided the Foundation's nationally recognized initiative, the Healthy Aging Regional Collaborative and provides insights and guidance for the Foundation's Healthy Community Partnerships initiative, where the neighborhoods of Little Havana and Miami Gardens were selected as community partners. She also serves on the boards of The Early Learning Coalition and Florida Health Networks.
In July, 2016 Loreen successfully completed Harvard Business Schools' Social Enterprise Executive Education program: Strategic Perspectives in Non-Profit Management.
In recognition of her outstanding community contributions and accomplishments, in 2014 she was awarded the Red Cross Sara Hopkins Woodruff Spectrum Award for Education, in 2009 she was named one of South Florida's Most Influential Business Women and in 2009 was a March of Dimes South Florida Building a Community award finalist. In 2015, Loreen was recognized by the Latino Center on Aging for effective leadership.
Prior to joining Easter Seals South Florida, Loreen was an accomplished higher education administrator for 22 years, serving as vice president and ultimately president of Johnson & Wales University's North Miami Campus where she led the growth and development of the campus into a thriving, $100 million, 29-acre facility serving more than 2,000 students from all over the world.
Easter Seals South Florida is one of 72 domestic affiliates of Easter Seals, Inc., a nonprofit charitable organization providing assistance to more than one million children and adults with autism and other disabilities and special needs. For more than 25 consecutive years, Easter Seals has ranked first among National Health Council members for the percentage (94 percent) of program dollars spent on direct client services. Easter Seals receives funding from a variety of sources, including private insurers, government agencies, public contributions and fee-for-service. Public contributions help cover the difference between actual program costs and what clients can afford. If you are interested in learning more about Easter Seals South Florida or would like to volunteer or provide financial support, please contact Marta Quintana, VP Development at (305) 547-4765, www.easterseals.com/southflorida.