Respite Services
Getting a Break!
"Respite" is a temporary relief for caregivers and families caring for those with disabilities, chronic or terminal illnesses, or the elderly. Caregivers need time off to relax or take care of other responsibilities. Respite provides the caregiver with the break they need.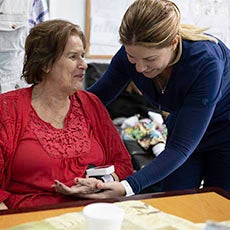 Who qualifies for Respite?
Veterans

Recipient must have a caregiver

Reside in Miami-Dade or Broward County
What are In-Home Services?
In-Home Services are offered in the comfort and security of your own home by qualified and dedicated Certified Nursing Assistants or AmeriCorps members.
Companionship/Respite—Trained AmeriCorps members offer companionship and comfort to individuals who for medical or safety reasons may not wish to remain home alone or for those who may be isolated and in need of social interaction.
Services include:
Light housekeeping

Nutritional Activities

Recreational Activities

Exercises

Massage

Reminiscing
What is the cost?
There is no cost to the family.
For more information contact Angela Aracena at (305) 547-4734 or via email at aaracena@sfl.easterseals.com