WorkFirst Employment Services Helped Liz Discover Jobs That Fit Her Skills and Interests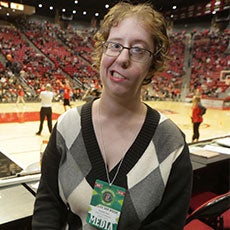 Liz wanted a job that allowed her to use her talents as a writer and her passion for sports and for film. Although she has a B.S. in TV/Film and a minor in Journalism, she struggled to find work. After being referred to WorkFirst, Liz was connected with a Vocational Specialist who helped her discover jobs that would be a good fit for her skills and interests. "What I like about Easterseals is that my vocational specialist took the time to get to know me. That's all I really ask," Liz said. As a result Liz works part-time as a sports writer covering San Diego area sports for East County Magazine. A huge fan of classic Hollywood films, Liz also works as an associate at a Regal Theater. "I love all the people I work with" Liz said. Watch Liz's story at the video below.
Learn more about our WorkFirst Employment Services here.