Centenarian Recognized During Easterseals Older Americans Month Event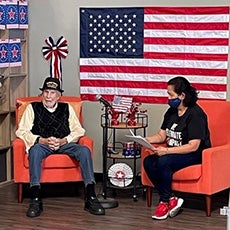 Each May, Easterseals Senior Day Centers celebrate Older Americans Month. They celebrate the talents, contributions and lives of their members and highlight an older American who is living his or her best life.
This year, Easterseals Brea Senior Day Center highlighted 103-year-old centenarian Cliff P.
While being interviewed by his friend and Easterseals Life Skills Coach Edna S. during the event, Cliff spoke candidly, narrating a journey that detailed his life from early childhood to present day. Cliff is a great storyteller and kept the Senior Center and virtual attendees alike, intrigued, including his daughter Joe, (Lake Elsinore), and son Steve, (Pittsburg), who attended via Zoom. Cliff was overjoyed to share his experiences and accomplishments with his friends and family and his son and daughter were proud to participate! The interview not only highlighted Cliff, but revealed the magnitude of their father's impact on the people in his life.
Cliff is active in his community and gives back by volunteering. In 2020, mandated "Stay in Place" orders left Cliff without a volunteer job. So, when Cliff's long-time friend asked if he would be interested in visiting The Senior Day Center on Fridays, he quickly agreed.
Cliff and Edna started leading weekly exercises. Cliff laughing that his exercises, "…are good for grammar [grade] school kids and elderly people," then "Edna goes in and does exercise for a high school football team or college students. Much different."
Edna says that her fellow associates, along with the individuals who watch the exercise sessions on Zoom are "amazed at Cliff and the powerful brain he has at 103 years old and how he is very physically active and how he does the exercises with them."
Cliff is a veteran, history buff, word jumble enthusiastic and docent of sorts to many, but to the Brea Senior Day Center, he is a friend, and a much-loved addition to the Easterseals family.
Cliff speaks highly of Easterseals as a whole and even greater of the Brea Senior Day Center, adding, "I feel safe as I could anywhere. They do all the proper things...It's such a great organization. I just can't believe there's such an organization that treats people the way they do!"
(All of the seniors attending the Easterseals Day Services program in Brea are vaccinated and associates continue to practice all COVID-19 safety protocols.)
The Senior Center spotlight did more than just highlight Cliff's life, it open new doors to new ways of connecting with long distance children, grand-children, great-grandchildren, and great-great-grandchildren. As he has in the past, Cliff will celebrate his birthday (104th), at the Brea Senior Day Center, the only difference this year, is that he will also share his day via Zoom, with long distance loved ones in Pittsburg and Florida.