Phil's Musical Talents Bring Joy to Senior Day Services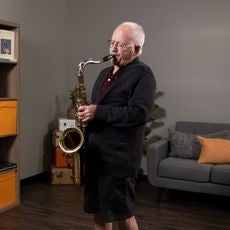 For participants in Easterseals Southern California's Senior Day Services in Brea, music is one of the highlights of their day. The music does not come from the radio or from a streaming service but from their fellow participant, Phil.
Growing up in Italy, Phil spent his youth playing the saxophone in school. As an adult, his musical talent led him to perform on cruise ships across the Caribbean. It was then that he met his wife, and together they immigrated to the United States and raised three children. During this time, Phil's love of music lay dormant as his priorities shifted to adjusting to a new country and raising his family.
"My father did not play his saxophone for forty years," shared his eldest daughter, Beth. "So you can imagine our surprise when he began to play again and remembered how to play so effortlessly."
It was not only the amount of time that had passed since he had last played that made his musical talent a surprise. For the past ten years, Phil has lived with Alzheimer's disease. A condition affecting one's memory, Alzheimer's has provided a multitude of challenges with his recollection and ability to navigate on his own.
"As the Alzheimer's progressed, my family and I knew we needed to find support but we were lost on where to start," Beth shared. "It was such a relief when we found out about Easterseals Senior Day Services. After speaking with the Easterseals team, we no longer felt alone in this situation and were so grateful that there were programs and people to support families like ours."
Most days, Phil treats Easterseals associates and fellow participants to a 30-minute concert of classic jazz songs. The ability to perform has sparked a fire in him, reigniting the love he had for music in his youth. At home, his family shares that he practices two to three times a day. For many individuals with Alzheimer's, engaging in activities and hobbies can provide personal agency and enhance their quality of life. Along with music, Easterseals' Senior Day Services provides structured activities and social opportunities that keep participants engaged and active.
For Phil and his family, the Senior Services filled an important gap. It gives Phil the opportunity to connect with other participants and associates in a structured and safe environment while providing his family with the peace of mind that he is cared for during the workday.
Learn more information about Easterseals Southern California's Senior Day Services program.