Mary and Her Family Find the Unexpected With Easterseals Senior Day Services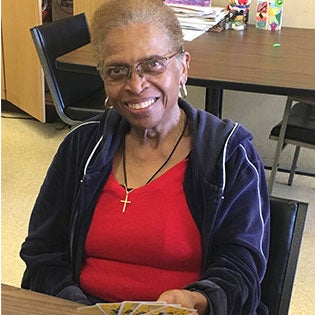 After living happily in St. Louis, Missouri for more than 50 years, working as a licensed beautician and raising four children who gave her five grandchildren, Mary was diagnosed with Alzheimer's disease just over two years ago and could no longer live alone in her 2-story, 7-bedroom house. After much discussion among her close-knit family, it was decided that Mary would move out west to live with her daughter, La Faune, and grandson, Noah, in Redondo Beach, California.
Before Mary relocated in February 2016, La Faune searched for senior day programs on the Internet and discovered Easterseals. "I did not want my mom just sitting at home all day, and I really wanted her to stay active and engaged with others," La Faune said. "Because I work full-time, I felt a day program would be ideal."
The prospect of Mary moving 1,800 miles was daunting for the family, but La Faune found much needed support from Easterseals staff. "The program coordinator was very understanding regarding my need to transition my mom out here, and she also provided information about community resources for transportation and healthcare that was helpful and greatly appreciated."
More than just providing a place, Easterseals has provided a purpose for Mary, who says "they treat me like a celebrity." Naturally warm and engaging, Mary greets newcomers to Easterseals, shows them around, and makes others feel comfortable.
"My family, friends, and I were convinced that my mom would have a very difficult time with the relocation. Easterseals made it an unexpectedly easy transition for her and the rest of us."
To read more about Easterseals Senior Day Services, click here.