Centenarian Celebrates His 104th Birthday at Senior Day Services Open House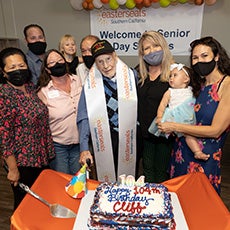 Easterseals Senior Day Services hosted an in-person open house for its new location in Brea on Wednesday, July 21, combined with a celebration honoring the 104th birthday of Senior Day Services participant Cliff.
The festivities included balloons, a birthday cake, party hats, cupcakes and cookies, and even a section of the room set up in tribute to the birthday guest-of-honor, including his World War II and centenarian hat collection; a photo display; and fun facts about the year he was born (1917).
In addition to a presentation from representatives of the Brea Chamber of Commerce, including President and CEO Heidi Gallegos, Easterseals and Cliff were also honored with a bevy of proclamations, tributes and cards from: U.S. Representative Young Kim (CA-39); California State Senator Josh Newman (SD 29); California Assemblyman Phillip Chen (55th District); Orange County Fourth District Supervisor Doug Chaffee; the Orange County Clerk-Recorder's Community Outreach Advisor Billy Le; Brea Chief of Police Adam Hawley and Police Captain David Dickinson; Brea Mayor Steve Vargas; and North Hills Church Pastor Doug Green, who had partnered with Easterseals to create a space for the new Senior Day Services location.
Brea Chamber representatives, Mayor Vargas, Easterseals representatives and members of Cliff's family, including his Great-Granddaughters Jolee, 3, and Harper, 9 months, helped Cliff cut a ceremonial ribbon in honor of the new Brea location before all guests joined them in singing "Happy Birthday." Cliff blew out three candles comprised of the numbers one, zero and four, atop his red, white and blue decorated birthday cake.
Cliff, who is legally blind but lives independently, spends two days a week at Easterseals Senior Day Service, helping lead weekly exercises, dancing, even organizing a beer tasting in April for National Beer Day where, of course, he danced the "Beer Barrel Polka."
He attributes mental and physical activity to his longevity, says that his best advice to anyone is, "Have honesty in everything."
Reflecting on the day, Easterseals Adult Day Services Vice President Kathleen Kolenda shared that "We were proud to "welcome in" the greater Brea community and ESSC supporters who turned out, with proper protocols, to help us create a remarkable Easterseals Senior Day Service Open House, showcase our beautiful new site, demonstrate the services for the seniors we support, and celebrate Cliff's 104th Birthday!"