Living Options Resident Peter Makes a Great Transition to New Home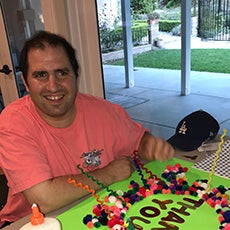 Peter, one of the first residents of Easterseals Southern California (ESSC) Living Options new residential homes in Orange County, has made tremendous progress since moving in earlier this year. Peter transferred to the home from the Fairview Developmental Center institutional home, where he was very anxious and used to exhibit several problem behaviors, frequently running away and causing his family a great deal of concern.
Since transitioning into the residential home where he lives with three roommates and receives one-on-one support from the Living Options staff, Peter has become very comfortable, discovering several new enjoyable activities such as going out for daily walks, helping around the house and doing arts and crafts. He frequently gets out into the community, which has greatly reduced his problem behaviors.
"He's transitioning really well," said Living Options Residential Administrator Armando F. "At first he was really anxious and paced a lot. Now he finally feels more at home. He regularly helps around the house, cooking and doing laundry. He also likes arts and crafts." Some of Peter's favorite activities include going on hiking trails in the park down the street and community-based outings, which he and his coach usually do on a daily basis to keep him interested and engaged.
Peter's mother says that his move to the ESSC Living Options home has given her and her family peace of mind. "I'm very thankful to Easterseals for providing a home and [supporting] him," she said. "When Peter was younger he lived at home, and Easterseals helped me in the beginning with advice on how to care for him. So when I was given the option of an Easterseals home and other homes, I chose Easterseals. I like the environment and what they do for people who have [disabilities]."
His mother often visits Peter at the home with his siblings and her grandchildren. "Almost every time I go he's sitting in the backyard playing. They tell me he doesn't have any problems. It is great that he has one-to-one care as he likes having attention all the time."
ESSC Living Options recently opened its first two residential homes in Orange County, which were funded by grants from the Regional Center Orange County and Harbor Regional Center. The homes are retrofitted to meet the residents' needs and also have comfortable backyard areas with patios, outdoor games and fountains. In the home where Peter lives, each bedroom has its own climate control features, special lighting, and is decorated to reflect each resident's personal tastes.