Joseph Receives Corrected Medical Diagnosis Thanks to Living Options' Coordinated Life Services (CLS)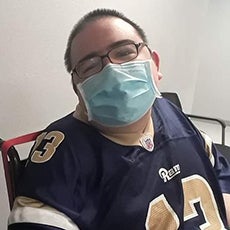 When Easterseals Living Options' Coordinated Life Services (CLS) Community Support Coordinator Brittany C. first met Joseph, she was told he had a rare disease with a bleak prognosis that could be ultimately fatal. Additionally, Joseph had other severe physical and mental health conditions. But, Joseph was defying the odds and living longer than the doctors had predicted.
Joseph, who is 28 years-old and lives with his family, didn't have the resources to visit a specialist for over seven years. When Brittany was assigned the case, Joseph was without a specialized wheelchair and did not have sufficient medical insurance.
Community Support Coordinators work one-on-one with at-risk individuals to ensure they have access to the services they need, often preventing them from becoming homeless. Individuals come to CLS through Regional Centers, who refer individuals that require more support than the Regional Centers can provide. "These individuals have risk factors that may include behavioral mental health, complex medical conditions and children who are at risk of being placed into foster care," says Lourdes C., Director of CLS.
After enrolling Joseph in the county insurance plan, Brittany was able to secure him an electric wheelchair and help dig deeper into his medical background. "I first found Joseph a primary care doctor who opened the door for specialists," says Brittany. "I set up visits with an orthopedist, cardiologist and geneticist who gave him a full genome test, something that had been never been done."
The genetic tests showed that Joseph had been misdiagnosed, which came as a relief for Joseph and his family. Joseph's diagnosis, while still serious, is not as life threating as once believed.
With the correct diagnosis, Brittany and the CLS team was then able to expand direct care with support from the Regional Center and local church members, which was desperately needed. Joseph's mother had been the only one managing his care, including lifting him in and out of his chair for bathing and other activities. The support of CLS was critical in cutting through the red tape of the insurance system, thus allowing more time for Joseph's mother to focus on his direct care.
Having the electric wheelchair gave Joseph access to his community, enabling him to be more social. Brittany says, "He was finally able to leave the apartment on his own, giving him greater confidence and humor."
Joseph is now undergoing physical therapy tailored for his diagnosis and is excited to get involved with ESSC's Adult Day Services to enjoy community activities once COVID-19 has subsided.
Brittany's experience with supporting Joseph illustrates the type of impact she, and all of CLS, have in the community. Thanks to Brittany and all of CLS for going the extra mile to make a difference every day for our participants and their families.