ESSC's Coordinated Life Services Helps Homeless Single Mother with Young Twins Find Housing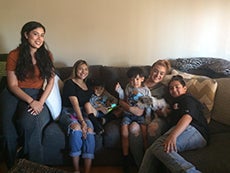 When ESSC Coordinated Life Services (CLS) began working with single mother Carmen and her family, they were homeless and living in a small motel room. Carmen's 4-year-old twin boys, who are on the autism spectrum, were not getting the support and help they needed.
Over the course of the past 10 months, Support Specialist Minerva Romero and the CLS team, who work with individuals with complex needs, and high-risk cases to provide intense case management and coordination of services, helped the family secure stable housing, obtain the services they need and find appropriate health care providers.
CLS also worked closely with the Department of Children and Family Services (DCFS), which was involved with the family and offered additional services focused on child safety. CLS acted as the point of contact, streamlined communication across all entities and helped reduce the stress that was being put on Carmen. Through intense coordination of services, CLS was able to create a web of support around Carmen and her family.
"We also worked with the family to help get the kids rides to school and identify the right primary care physicians," Minerva explained. "Carmen was struggling with her previous doctors and she didn't feel they were connecting with the twins or understanding the needs of her children on the autism spectrum. We helped her get ABA (Applied Behavior Analysis) for the twins. We also helped her create a crisis plan for if they got lost as the twins tended to wander."
Minerva worked with Carmen to help her feel more confident communicating with doctors, teachers and other service providers and advocating for her needs and those of her children. "She's come a long way from being homeless to being more established, and communicating well with vendors," Minerva explained. "She said to me, 'You've shown me how to communicate with others and use my words.' She was really excited."
Now Carmen and her family live in a two-bedroom detached apartment in San Gabriel that feels like a true home. "Carmen feels a lot better and tells me it feels good to have a home. She said, 'Now I can celebrate Christmas with my kids and think about having a party and decorating for the holidays. It's my home.' It makes me very happy to see how far they've come!"
Learn more about our Living Options services.