Francisco Has Made Tremendous Strides Thanks to Easterseals Children's Services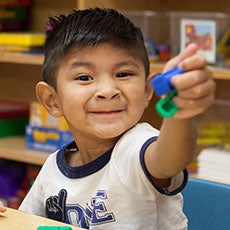 When Francisco was a baby his mother Josefina noticed that he had physical and verbal developmental delays. He did not crawl or talk. He began receiving services at an Easterseals infant center and now attends one of the organization's Child Development Centers (CDC). Francisco, age three, has made tremendous strides. He has gone from not using his legs to crawling. He is learning to speak, feed himself and has made many friends with his classmates. Josefina is no longer concerned about her son being isolated and not having friends. "I want him to socialize. He is so happy to come to the CDC. I thank Easterseals and all the teachers. I am happy because my child is happy."
Click here to learn more about our Chldren's Services.