Children's Services and Autism Services Work Together to Support Dominic with Achieving His Goals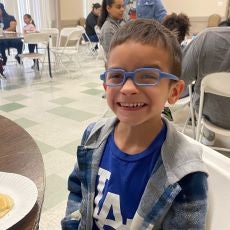 When Dominic was born, doctors told his mom, Raquel, that he would never walk or talk due to his disability. Fast-forward five years, and Dominic is proving them wrong thanks to his mom and support from Easterseals Southern California Disability Services (ESSC).
Raquel initially connected with ESSC Child Development Services (CDC) by referral from her local regional center. At the time, Dominic, age 3, wasn't talking much and communicated through behaviors like hitting and pinching. "I would try to figure things out on my own and I didn't even know where to call," said Raquel.
As a single working mom with little help, it was hard for Raquel to navigate a variety of disability services and get Dominic to and from appointments during the day. Easterseals staff learned that Dominic couldn't get his IEP (Individualized Education Program) services at school due to transportation and scheduling issues. They worked quickly to find a solution.
"Easterseals worked with us [and the school district] to get him transferred quickly to a closer CDC, which was a big thing," said Raquel. "Then the staff recommended ABA (Applied Behavior Analysis) Therapy because of his behaviors."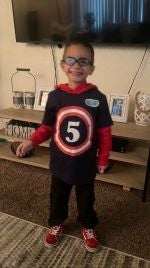 At first, Raquel was skeptical about ABA Therapy, but she quickly discovered that moving forward was the right decision. She said ABA Therapy helped Dominic to talk more and communicate his needs instead of hitting.
"With all the support he has received, we have seen a huge amount of growth in his development," said Nicole Sartor, ESSC Mental Health and Disabilities Specialist. "He started to talk, his physical ability has improved, and there is less unwanted behavior. The teamwork has been amazing between Easterseals Child Development Services, Easterseals Autism Services, and the school district."
Now that Dominic is reaching milestones like speaking in full sentences, playing with friends on the playground, and communicating with his peers and teachers, Raquel advises other parents to seek help, ask a lot of questions, and take advice from professionals.
"If it wasn't for Easterseals, I don't know what I would have done," said Raquel. "It's nice to feel like you have someone that you can call if you have questions or need anything. Doctors told us Dominic would never walk, but he's definitely running now!"
---
Explore More
Interested in enrolling your child at an Easterseals Child Development Center in Southern California? Income-eligible families living in San Bernardino, North San Diego County, and Ventura County service locations can learn more by visiting our Children's Services webpage.
If you are seeking a fulfilling career in child development or early childhood education at Easterseals Southern California, visit our Careers page.