Navy Veteran Shares How Easterseals Helped Him Find Purpose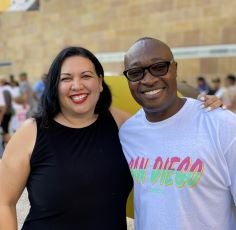 Anderson with his Easterseals coach, Cynthia.
After serving in the military for 20 years, Navy Veteran Anderson learned countless transferable skills, but there's one thing the military did not teach him: how to get a job as a civilian.
When Anderson retired from the Navy in 2021, fellow Veterans warned him how difficult it would be to find a job, but he wasn't too concerned, especially with his years of military experience as a logistics specialist on multiple deployments.
"Once I got out of the military, it was a shock," laughed Anderson. "My biggest issue was how to translate my skills and what I gained in my military career to a civilian life. That's where Easterseals came in."
Before learning about Easterseals Southern California's Bob Hope Veterans Support Program (BHVSP), Anderson met with multiple other Veterans support organizations that promised to help prepare him for his job search. Unfortunately, none of them provided the help he really needed.
"They didn't give me that one-on-one support," said Anderson. "But at Easterseals, my amazing (ESSC) coach Cynthia Marinaccio really gave me that one-one-one I needed to translate my skills to civilian terms and sat down with me on many occasions to do practice interviews so I could learn how to sell myself as an employee. The Easterseals program is the reason why I'm working where I am now."
Thanks to the help from Easterseals SoCal, Anderson is now happily employed at the Veterans Administration in La Jolla, CA as a supervisor in Environmental Management Services.
"It was an absolute pleasure to assist Anderson in his transition," said Cynthia Marinaccio, ESSC Employment Specialist. "He took the guidance I provided him and thrived to the best of his ability. I knew he would be an amazing employee no matter where his next opportunity would be."
Anderson is grateful he was referred to Easterseals by his Veteran friends, and he has in-turn continued to tell other Veterans about the support he received at Easterseals.
"We think we're ready once we retire from the military, but regardless of the skills we have, we're not," said Anderson. "I know for a fact, Easterseals is one place that can prepare Veterans to face this new reality."