Sharing Eugene's Personal Story of Success In Honor Of Veterans Day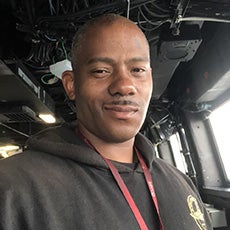 Eugene had joined the Marine Corps when he was just 17. He served for 12 years, including four deployments to Iraq (Operation Iraqi Freedom) and one deployment to Afghanistan (Operation Enduring Freedom). By 2010, he retired from the military and began a decade-long journey that featured many challenges.
In 2015, he became a single father to three daughters, now ages 14, 13 and 6, following a divorce from his former spouse. Her issues continually affected his ability to maintain a stable life for his daughters, despite having his B.S. in Communication Engineering from I.T.T. and achieving a Masters in Electrical Engineering from San Diego State University (2016), resulting in two periods of homelessness, in addition to a later job layoff.
While the family lived with friends, in hotels and sometimes his truck, Eugene kept his family intact despite tremendous odds.
"Everything I do, I do for my girls," Eugene said. "They always had clean clothes and always went to school, no matter our living situation. I made sure they were active in sports and were adventurous."
A fellow veteran referred Eugene to Easterseals Southern California's Bob Hope Veterans Support Program (ESSC BHVSP) in Nov. 2019.
Eugene's BHVSP employment specialist provided Eugene with peer support, networking connections, and helped him find housing support and other resources. "I just needed someone to point me in the right direction and some days I just needed someone to listen. Easterseals helped me navigate complex social services and find a job."
Highly motivated, Eugene followed through on every referral and job lead, landing a job in December 2019 as an Engineer Technician for a communications company in Southern California that builds equipment for the military among others. He and his daughters also now have their own home.
Discover more about Easterseals Bob Hope Veterans Support Program.
Learn the history of Veterans Day on the U.S. Department of Veterans Affairs website , Veterans Day events and observances for 2020 and Veterans Day deals and discounts including free meals.