Navy Veteran Sanjeeta Begins Building A Solid Post-Military Career
Before her nine years of military service in the U.S. Navy, Sanjeeta Thomas worked as a nurse in her home country of Fiji. She left home, and the nursing profession behind, to immigrate to the U.S. to support her struggling family. Unable to use her foreign degree, she took her expertise and joined the Navy where she became an Operational Specialist. Sanjeeta, a single mother and primary provider for a household of five, left active-duty service amid the pandemic in early 2020.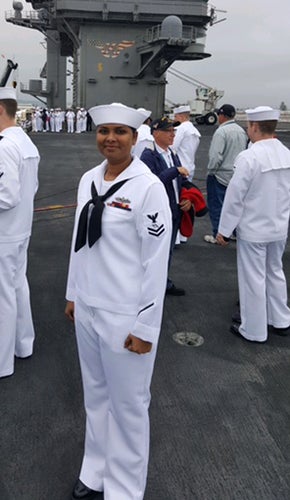 "It was a difficult and challenging time for me, dealing with my involuntary medical separation from the Navy and then facing unemployment as a single mother and primary provider for my family during a pandemic was terrifying," she said. "But with the assistance and support from the Easterseals Bob Hope Veterans Support Program (BHVSP) my family made it through the first year of the pandemic and we are now in a good place."

The BHVSP team helped her create a solid resume, gave her referrals to additional community resources, and opportunity! As a true testament to her resilience and perseverance, Sanjeeta is now working as an Administrative Assistant with the Us4Warriors Foundation. She also is completing the Registered Dental Assistant Program at PIMA Medical Institute and is expected to graduate later this year.
Visit our Bob Hope Veterans Support Program webpage to learn more details about the program.