Jonathon Finds His Passion and Purpose with Guidance from Easterseals Southern California's Bob Hope Veteran Support Program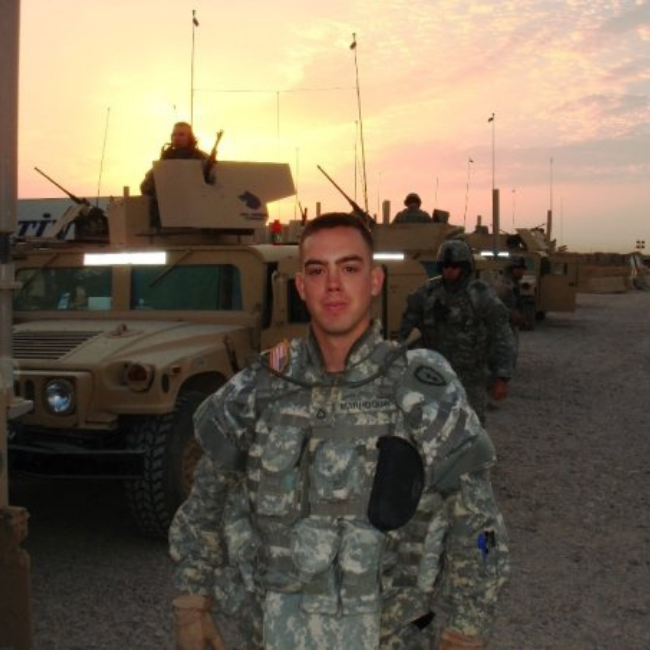 It was 9/11 that prompted Jonathon to enlist in the Army.
Two months after watching the events of that day unfold, Jonathon joined his high school's Reserve Officers' Training Corps (ROTC) program. Upon graduating high school, he enlisted in the Army. During his six years of service, Jonathon worked as a Chaplain's Assistant for the 2-27th Infantry Regiment. While deployed in Iraq, Jonathon experienced a head injury from an explosion and the devastating loss of 18 fellow service members. As a result, Jonathon developed Post-Traumatic Stress Disorder (PTSD) and other health complications. These events would lead to a medical discharge from the Army in 2011.
Like many other veterans, the transition from the military to civilian life left Jonathon feeling disconnected and uncertain of his next steps. Not only was he exploring new terrain in the civilian world, Jonathon was newly married and preparing for the birth of his daughter.
"I was experiencing so many life-altering things at once," Jonathon shared. "On top of all the changes happening, I was still trying to work through the trauma I had experienced in the military and learn how to manage my PTSD. It quickly became too much."
A few years after his discharge from the Army, Jonathon learned about Easterseals Southern California's Bob Hope Veterans Support Program (ESSC BHVSP). The help came at a critical time. Jonathon was grieving the loss of his second child as well as the end of his marriage. During those dark days, Jonathon turned to mental health services and ESSC's BHVSP to help him continue on.
"When I started working with my Employment Specialist, Al, I knew he was truly listening to me. I remember when we first met and I had told him my story, he placed his hand on my shoulder and said 'I'm really glad you're here, we're going to find the right place for you.'"
Al and the BHVSP team not only worked alongside Jonathon to develop a strong resume and sharpen his interview techniques but helped him identify jobs where he could channel his passion for serving others through his work. In 2021, he landed a new role teaching parenting classes to active-duty, re-entry, and veteran fathers in SAY San Diego's Dad Corp program.
His current position led him to a new, unexpected passion: teaching. Jonathon is working towards his teaching credential to further serve his community through education and mentorship. His perseverance in the face of adversity has led Jonathon to find his purpose and serve others experiencing the hardships he has overcome.
"[ESSC's] Bob Hope Veteran Support Program not only changed my life but it saved my life," Jonathon shared. "For other service members transitioning out of the military, I cannot stress enough how important it is to get connected to support services. There are people – like the team at BHVSP – who want to see you succeed."
Learn More about Easterseals Southern California's Bob Hope Veterans Support Program.