Dan Finds His Footing in the Professional World with the Help of Easterseals Southern California's Bob Hope Veterans Support Program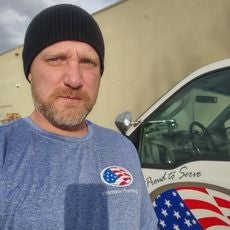 Like his family before him, Dan enlisted in the Marine Corps shortly after graduating high school. During his four years of service, he worked in personnel administration. Upon being honorably discharged from the Marine Corps, Dan enlisted in the Army National Guard where he served for three years as a Combat Medic.
After seven years of military service, Dan felt it was time to transition to the civilian workforce. The adjustment to civilian life can often be more challenging than expected for veterans and Dan found himself unsure of how to succeed. Initially working as an EMT for a private ambulatory care company, Dan struggled to work in emergency medicine with his combat-induced Post-Traumatic Stress Disorder (PTSD).
"I knew after my experience as an EMT that my experiences in the military would make pursuing anything in the medical field difficult," Dan shared. "But that had been my plan and then, suddenly, I was back at square one."
Identifying his next step proved to be even more complicated as Dan's difficulties adapting to civilian life extended beyond the workplace. Like far too many other veterans, Dan experienced homelessness, an all-too-common occurrence for veterans in the United States. According to the National Alliance to End Homelessness, there are over 37,000 veterans without housing in the United States. Mental health issues, access to affordable housing, and difficulties adapting to civilian life are among the top reasons that many veterans experience homelessness after completing their military service.
During this challenging time, Dan was determined to create a better life for himself.
In January 2020, Dan connected with an Employment Specialist at Easterseals Southern California's Bob Hope Veterans Support Program (BHVSP). Dan's focus was on building up his resume after several years of unemployment. To do this, the BHVSP team identified volunteer opportunities for Dan that would allow him to develop new skills and add recent work experience to his resume. Along with volunteering, Dan worked closely with the BHVSP team to develop stronger interview skills, sharpen his resume, and identify career opportunities.
"The team members at Bob Hope Veteran Support Program were instrumental in my job search. They went above and beyond to support me," Dan said.
With the guidance of the BHVSP team, Dan secured a job as a Plumber's Apprentice for a veteran-run plumbing company in Boise, Idaho. Inspired by his new role, Dan recently enrolled in a four-year plumbing program at a nearby college.
"Through this program, I was not only able to land my first job in a decade but I found a career path that I'm excited about. For that, I am so thankful for the BHVSP team," Dan shared. "For other veterans adjusting to civilian life, my advice would be to surround yourself with others that understand your experience and want to see you succeed."
Visit our Bob Hope Veterans Support Program webpage to learn more details about the program.